An element of uncertainty has crept into the equity space as varying external risks are beginning to weigh on this market. The economic risks are certainly there, highlighted by an "average" FED beige book released yesterday. Retail sales were much worse too and they are a leading predictor of where the economy currently stands.
In my opinion, it's only a matter of time before the world-wide deflationary pull and economic weakness begins to directly impact the US economy. Considering the FED has tapered all QE programs, in an interconnected and dependent world, the US economy has not healed enough to withstand this weakness, let alone continue to "carry the world" on its back.
The rush to bond markets world-wide continues to provide the evidence to support an economic slowdown/recession. Yesterday, the US 30 year bond hit the lowest yields ever recorded, yet market pundits wish to ignorantly remain quiet on its significance.  The flattening of the yield curve represents smart money heading for safety before the oncoming storm.
On a day to day basis, volatility continues to increase and the intra-day swings have  become much more severe and unpredictable. And the market's character appears to be changing, in my opinion, reflecting the challenges outlined above and more resembling the action seen during past market turning points. Where the market in the past would recover the losses and rally sharply into the close, now it's the early session rallies that are being sold into the close.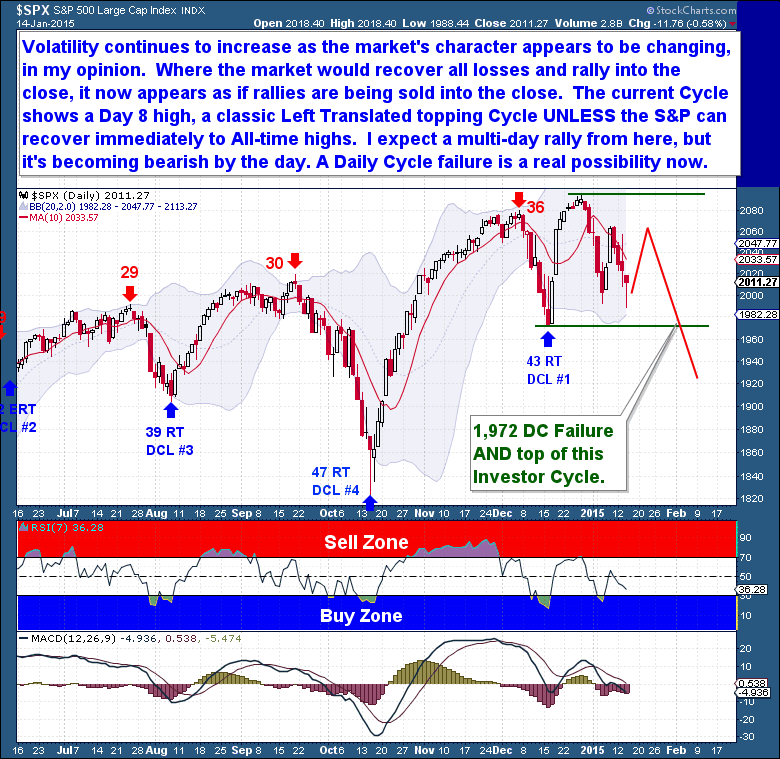 The current Cycle shows just a Day 8 high, at this point it remains a classic Left Translated topping Cycle. It will remain Left Translated, meaning it will likely fail, unless somehow the S&P can recover here and rally to make All-time highs. I expect a multi-day rally from here, because we are short-term oversold, but the Cycle picture is becoming bearish by the day now.
If the Dec 1,972 low is lost it will constitute a Daily Cycle failure and print a picture perfect Investor Cycle top.  If that failure does occur, Cycles tell us (with high probability) that the S&P would have at least 8 weeks of sharply lower prices into the next Weekly Cycle Low.
The Financial Tap publishes two member reports per week, a weekly premium report and a midweek market update report. The reports cover the movements and trading opportunities of the Gold, S&P, Oil, $USD, US Bond's, and Natural Gas Cycles. Along with these reports, members enjoy access to two different portfolios and trade alerts. Both portfolios trade on varying time-frames (from days, weeks, to months), there is a portfolio to suit all member preferences.
You're just 1 minute away from profitable trades! please visit: https://thefinancialtap.com
Feel free to share this post via the below social media avenues.
https://thefinancialtap.com/wp-content/uploads/sites/19/2021/03/NEW-Financial-Tap-LOGO.png
0
0
Bob Loukas
https://thefinancialtap.com/wp-content/uploads/sites/19/2021/03/NEW-Financial-Tap-LOGO.png
Bob Loukas
2015-01-15 10:42:53
2015-04-22 15:37:58
A Cycle Test for Equity Markets