A new Cycle puts us on Week 3, and already the weekly RSI is into the "sell zone". Typically it takes 7-8 weeks to get up into that region, so any long term bull here should be praying that this is not a new Investor Cycle, they should wish for 2-4 more weeks lower first. From a breadth standpoint this is supportive of a new Cycle. The S&P bullish percent index back to 78%, having dipped to only 70%, far short of where an ICL will typically bottom. Net new highs are healthy at 687, while 81% of S&P 500 stocks are above the 50dma. Again none of the indicators ever hit traditional ICL levels, so it's either a new Cycle starting out at overbought levels, or a big bull trap with a very unusual end to an Investor Cycle.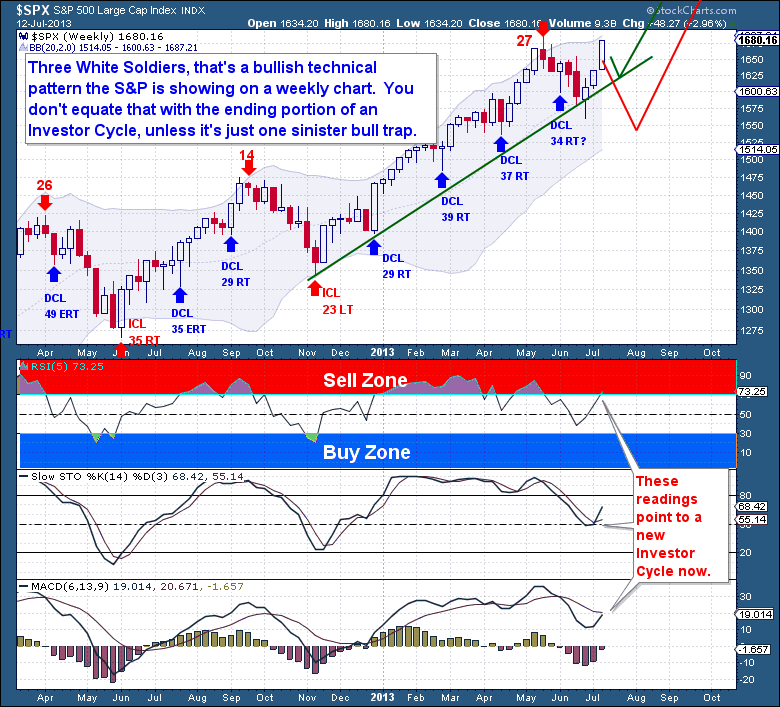 Here is the problem for the bulls and why they need a good pullback. This ICL was also meant to be a yearly low too. But obviously that does not qualify; Yearly Cycle Lows take speculative and over leveraged traders "to the cleaners". June 24th simply does not qualify!
The monthly RSI never dropped below 70 or moved off the top of the Bollinger bands. From a monthly perspective the needles have barely moved off the overbought levels. So if we keep going, then any new Investor Cycle has 20 weeks ahead of itself, that's 5 months into the next low. I doubt this level of increase can continue for much longer. Without an ICL and YCL here in the next 4 weeks, this will end up being a short lived runaway or blow-off move that will result in an extended 4 Year Cycle Top.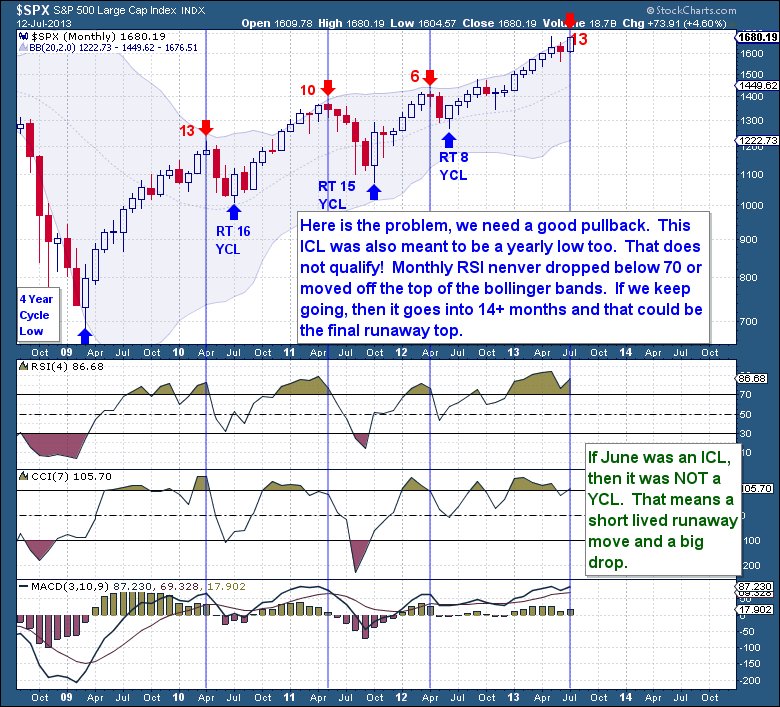 One thing is for certain, after a 1,000 point 150% rally in just 4 years, this cyclical bull market is right near a top. I don't care how much Bernanke talks, recessions are inevitable and we're approaching the timing for the next downturn. Markets are cyclical and they always turn right around the time where nobody believes they could. The bears have capitulated.
If you're interested in learning more about The Financial Tap and the services offered, please visit https://thefinancialtap.com/about
https://thefinancialtap.com/wp-content/uploads/sites/19/2021/03/NEW-Financial-Tap-LOGO.png
0
0
Bob Loukas
https://thefinancialtap.com/wp-content/uploads/sites/19/2021/03/NEW-Financial-Tap-LOGO.png
Bob Loukas
2013-07-15 10:15:52
2013-07-15 10:15:52
A Blow Off Top is Brewing