Midweek Market Update Report
It was good to see crude drop today. The declining resistance line that has marked the past few Cycle tops and pivots again proved to be a barrier. Before and after the chairman testified we saw an across the board rally in equities, metals, and industrial commodities like copper. However Crude was down, it was down the entire session and by the close ended significantly lower.
This was bearish action because any asset that lags so badly during a surge of that magnitude is normally the asset that will lead a decline. The laggard going up always becomes the worst performing asset when the market is weak. As I've noted in past reports, crude remains much more correlated to the equity market and if this is the top for that Cycle, then crude should fall quickly.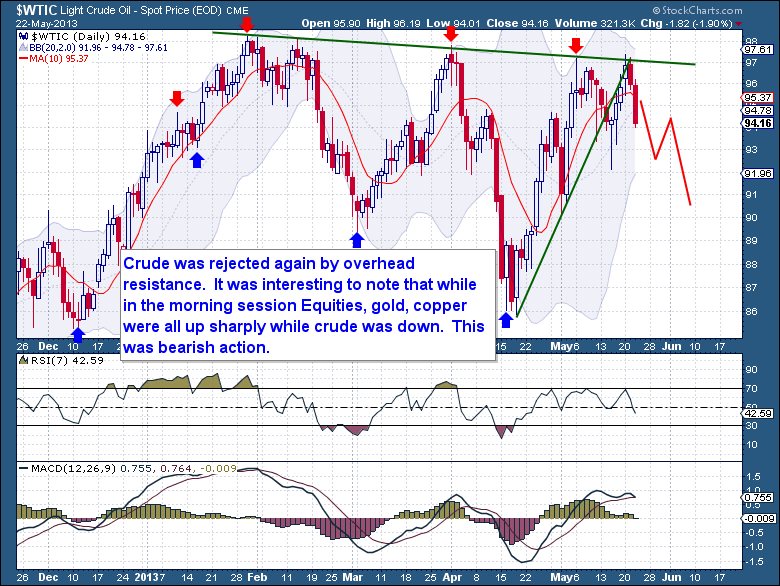 Last Call – Weekend Report
As the rally matures, the rate of change (ROC) of this Cycle is beginning to accelerate. Normally a Cycle will form a more pronounced topping pattern, so the rate of change declines towards zero near the market top. This move is very different because it has blow-off like qualities about it. The longer this Cycle advances, the more vertical it becomes. The extension of this rally compared to past Cycles is clearly pronounced (see blue arrows below) on the below chart and we know the sharper the rise the faster and further it will eventually fall. To me this market resembles a lot like the 2007 melt-up move where the market just kept on going despite what was clearly a worsening macroeconomic landscape.
This might also explain why the market internals is conflicting, despite an obvious divergence half way through this Cycle, much of the internals now look bullish and easily support this markets move to all-time highs. What it's most likely showing is that once the next ICL occurs, we could well be looking at yet another move higher.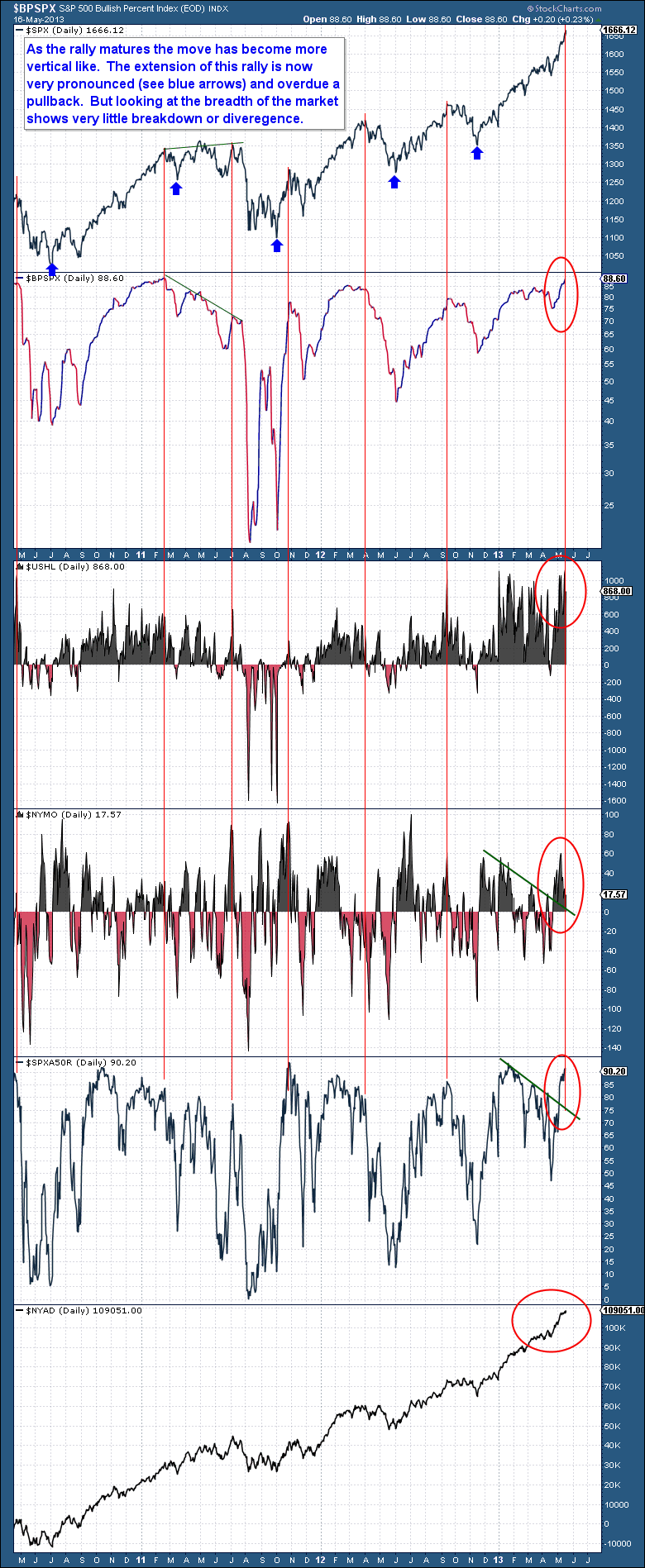 The internal technical data may support this move, but the underlying macroeconomic fundamentals couldn't be further away. The divergence between the sputtering economy and the liquidity fed markets is already at bubble proportions. This FED created spread is by design, and for as long as the economy manages to avoid tipping into the abyss there remains a chance that this spread could be maintained.
I often here on "the wire" that this move has such little exuberance and that because "Joe public" isn't buying it that this couldn't be a bubble. This is often cited as justification for the market at these levels (and for higher prices) and I believe it's a dangerous argument. Don't believe for a second that traders, economists, investment banks, and hedge funds believe this is a true secular bull market. In 2000 and 2007, this element actually believed in the market, they really did think it was going so much higher.
But this time around it's just one big game and we're not invited. It's a "backdoor" payback for the 2007-08 losses, a way to make them all whole again, and it's at your expense. None of them believes this market because they know it's an artificial rally, a FED induced and supported "wealth creation" exercise. This mentioned group is in on the deal in what is a massive transfer of wealth from the public to the connected "banksters" and their vast network of friends. Cash is sloshing around the economy and they're buying everything and anything. Equities, junk bonds, Rwandan and Greek debt, Condo's, Art, you name and they're buying it.
So as they all party and cash in, "Joe public" is struggling to find employment. They're very aware that eventually all drunken parties come to an end. The smart ones already have one foot out the door while the others have quietly made their way over towards the exists. Like in any party, there are always the young and naïve who are just having too good a time, and we know what will happen to them. Can you see them moving towards the exit, look below.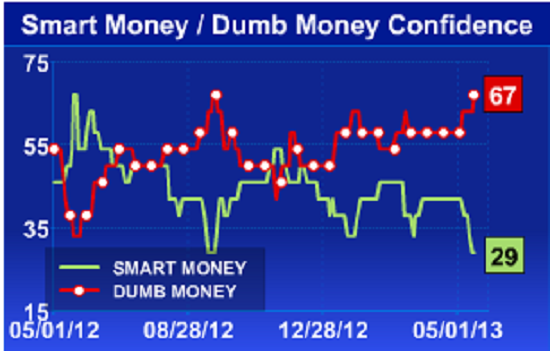 (Courtesy sentimentrader.com)
Making new highs 26 weeks into a Cycle matches the longest winning streak of this 4 Year Cycle. We also have a close above the weekly and monthly Bollinger Bands, historically this has signaled a significant top.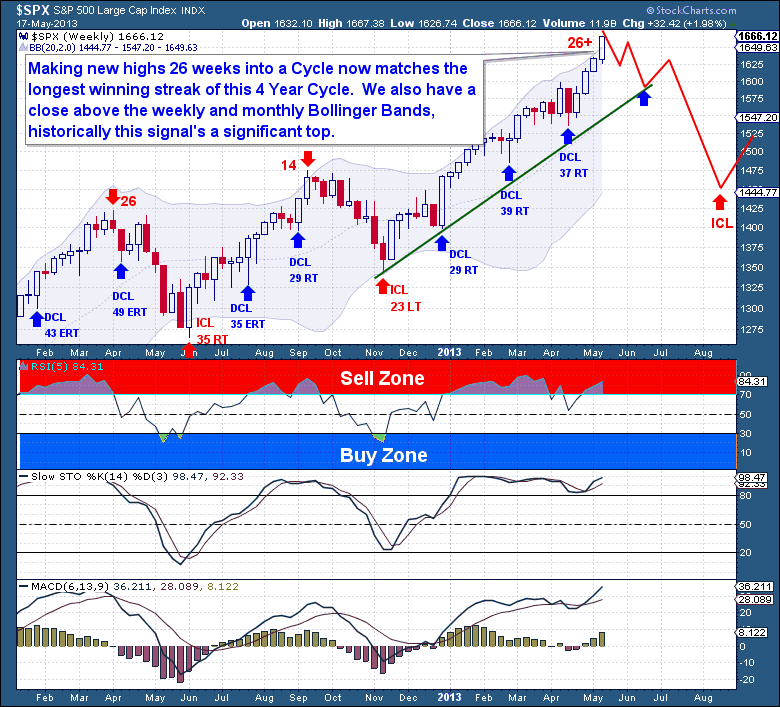 When the party ends there will be a massive stampede for the exits. After an astounding 400 point Yearly Cycle move there is a lot of paper profit outstanding along with some massive and over leveraged positions. Once the first couple of dips are not bought, the participants will get a whiff of the party's end and the mood will quickly turn from ecstasy to panic. This realization will set the "bots" into motion as their speed will accelerate the change in trend. This will set of a process of leverage reduction, forced liquidation, and the natural instinct to protect oneself. This self-fulfilling process is at the very heart of Cycle mechanics and it will ensure that the markets reversion back to the rising mean is fulfilled. Never under-estimate the natural laws of human nature, the FED maybe powerful, but they are far from supreme.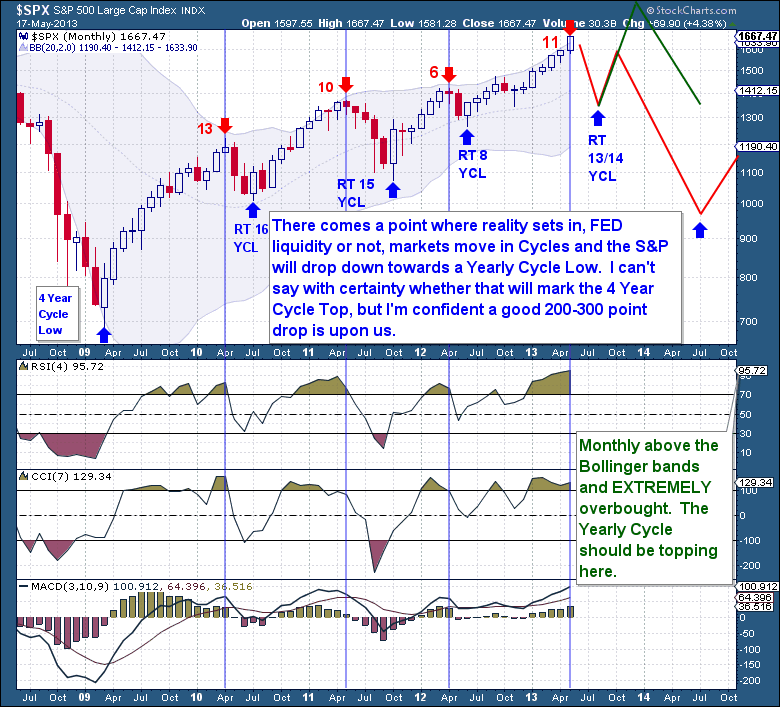 Midweek Market Update Report
This is a bear market, the sooner member's divorce their precious metals expectations from those held during the massive 2008-2011 bull market, the better off they will be. We all need to stop trying to find a silver lining in every chart or event that hits the news-wire. Of course I'm still a believer and long term gold bull, but until the charts (price) tell me otherwise, I will not try to force my position on the markets.
Whether this is a Bear market or Bull about to roar back, the gold sector is due for a rebound, and a substantial one at that. Even if "hypothetically" the bull was dead, we should expect some significant counter-trend rallies. The pent up energy and short interest against the sector is just too great and soon it's going to ignite and lead to a "face ripping" rally.
I've been warning members for weeks to watch out for the bearish case. With the decline now firmly in motion, it will now likely come down to this Daily Cycle. With the culmination of this waterfall decline the Cycle should reach an important low. Once the butchery ends, we could have a DCL, ICL, and YCL all print together. With sentiment and COT where they are a new Investor and Yearly Cycle should be extremely explosive and a move higher over many months should be expected.
But the problem is with the now, so how far will this waterfall drop. Obviously I can't tell you where that bottom is, I can only advise you to continue shorting it or stay away until we see confirmation of a new Cycle. For now we must watch, knowing that any reversal from here is already nicely in the timing band and most likely evidence of a DCL.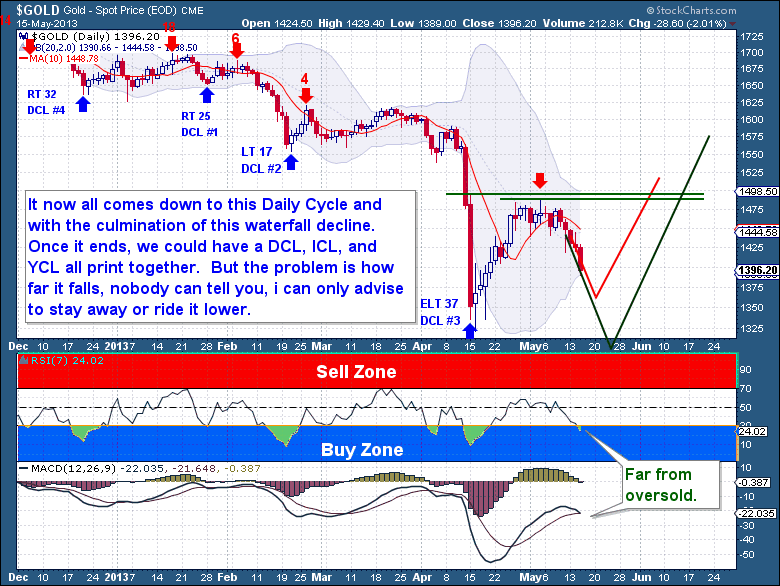 Seeking a Spark
The miners are a mixed bag. Even though they've managed to reverse some big intra-day drops, pricewise they've done little since the April collapse. They are known to diverge from the metal during key turning points, but in this case I believe that the miners immediate fate will be determined by what gold ultimately does over the next 10 sessions. If I had to make a bet, then I would say that the miners drop below the April lows and quickly reverse because I still see some downside for gold.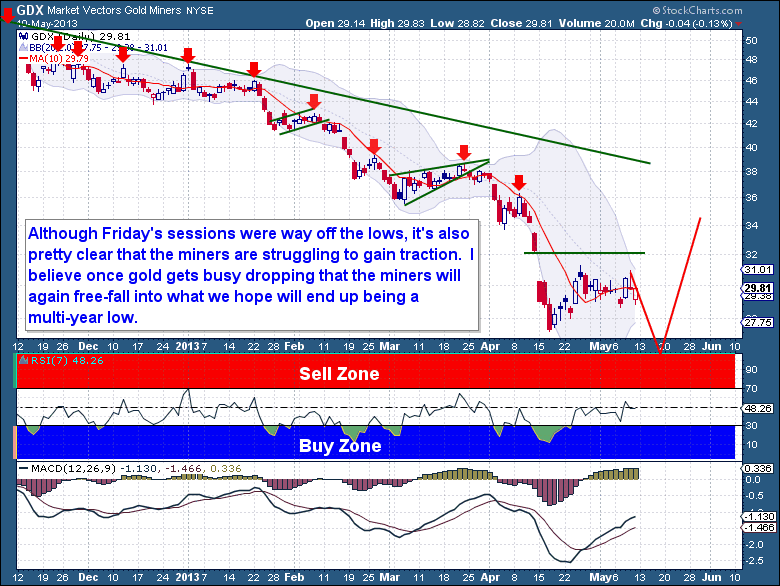 But let's look beyond the next few weeks, because the miners are setting up for a massive move. As you know, I haven't been a fan of the miners since they topped a few years ago because I always found the metal to be a much reliable and predictable asset. Even so, it's getting very hard to ignore the potential that lies ahead for the miners.
The below ratio chart of Gold to the HUI index really tells the coming story well in my opinion. Miners tend to really exaggerate declines into big lows (and extend on blow-offs) and this recent crash is no exception. If we make the assumption that the gold bull market is alive and well, then we should be able to safely say that the miners are on the verge of a massive new move. What the chart shows is that the miners have never been less expensive relative to gold during this bull market, including the great crash of 2008. Even if we go back 20 years, only briefly at the end of the secular bear market did we see such extremes.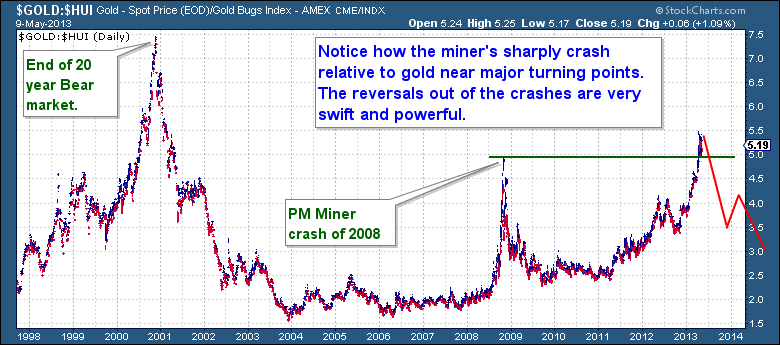 And here is the potential. After every collapse in the miners we see a sharp rebound in price. In addition to that price rebound, we also see a massive out-performance relative to gold too. This is because during the collapse the miners drop much more to the downside than gold, so the reversion back to mean works the same way in reverse. If you look at the above chart, these parabolic spikes in the ratio typically end up reverting back to the base of the move.
Here is some "back of the envelope" math on the potential ahead for the miners. HUI is currently at 280 and the gold/HUI ratio is at 5.20. If the ratio alone comes back to 3.5 (still high historically), then that implies a HUI of 420 (unchanged Gold price) a 50% rise in the HUI. But if gold also rallies as expected, let's say back to the $1,920 highs, and then the ratio suggests a HUI price of 550 or a move of 100%. If gold moves into a new secular bull market trend, then you can see for yourself what the potential is. This isn't a scientific study, but the theme is very consistent with all past big drops by the miners.
We know the COT report is not an accurate timing tool, because if it were then the past 4 weeks of bullish readings would have equated to much higher prices by now. But it has become impossible to ignore the pent up energy within the COT report.
Midweek Market Update Report
The wait continues on gold as a break out of this tight range is well due now. I'm surprised it didn't happen earlier in the week, but now that we're on Day 18 I expect it will occur at any moment and the move will be fast.
The two scenarios I've been tracking for the past two weeks remain firmly on the table. If this is the final Daily Cycle before a last drop, then at Day 18 the Cycle is getting old and this move would likely occur momentarily. There really isn't too much time left in the Cycle to support a move above $1,500 which is then followed by a collapse all the way down to test the April lows. That means if we're to test those April lows, I believe that move will need to begin in the next few sessions and continue lower for 5-10 sessions. This still remains my primary viewpoint and if this unfolds it will present us with a great opportunity to get long from a much lower level.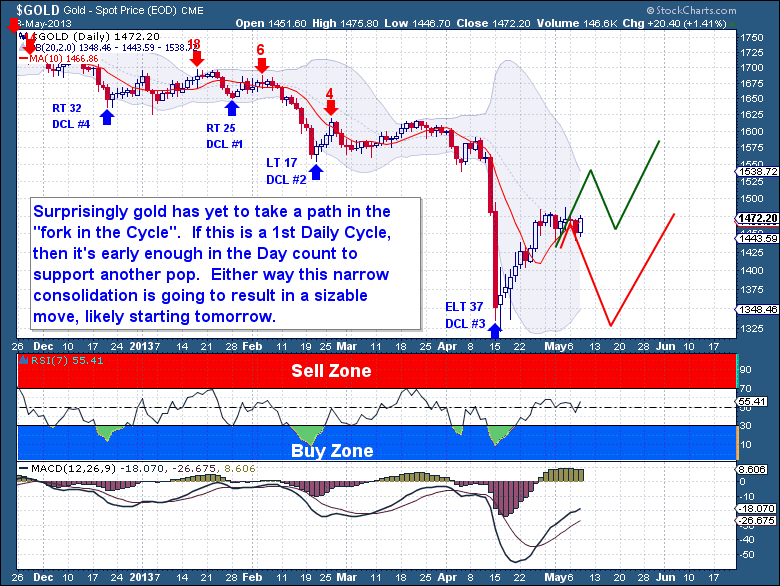 Slingshot – Weekend Report
With the record move into the 1,600's the S&P is stretched and overbought by near record levels. This nearly 300 point move has again resulted in a greater than 2 standard deviation move above the 50dma, a point that very often marks the top of a Cycle. The last such peak occurred 4 weeks ago and it marked the top of the Daily Cycle.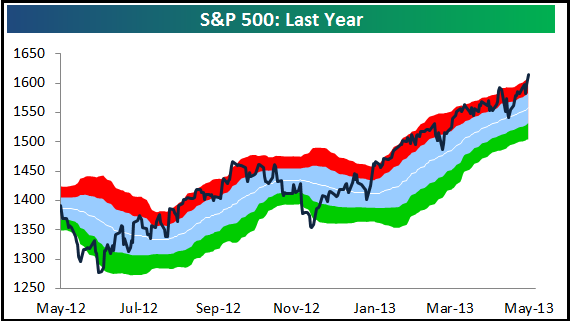 (Courtesy Bedspokeinvest.com)
We know what's fueling this move; it's a general fear of going "against the FED". Despite all the historical evidence that shows this will not end well at all, market participants are only concerned with the present. The FED (once again) is creating the illusion that it can support and protect the market participants from any downside risk, in effect creating a win/win scenario for investors. This is evident in the record prices being paid for junk debt or anything that pays a yield regardless of risk. We also see it in the record levels of margin debt that traders/investors are willing to take; this too is now at new record levels.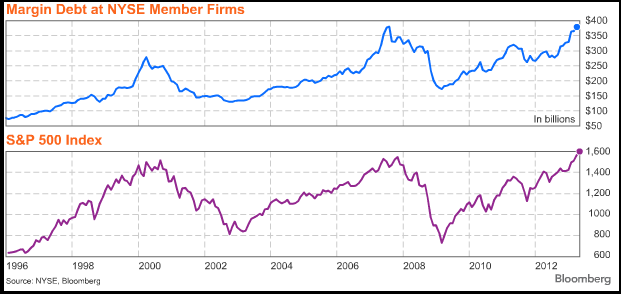 On the Investor Cycle chart the strength of this Cycle is hard to ignore. If the economy was booming and the growth was organic, this would be one bullish move that you wouldn't want to miss at any cost. But I'm more than confident that this is only a cyclical move within a larger bear market and it's now near the euphoric tail-end too. Everything eventually retraces, the question is when. With new highs 24 weeks since the last Cycle Low, this is now a part of a select group of Investor Cycle that have stretched this far.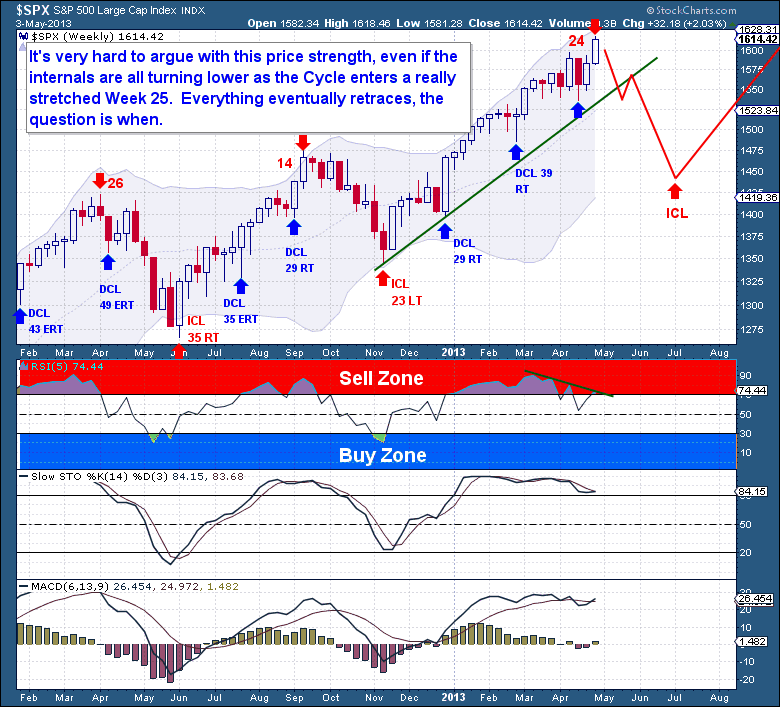 Midweek Market Update Report – May 1st
Again we're seeing a continuation in really sub-par corporate earnings results and top-line revenue numbers for Q1. The weakness is broad and it spans virtually every sector of the economy. On the average they're reporting top-line numbers that are reflective of an overall weakening macro-economic landscape. This is evident by the growing set of weaker economic announcements.
As a follow through to poor announcements in previous weeks, again we had more weak ISM numbers, and today ADP confirmed a slowdown in hiring. Sure unemployment claims are not growing, meaning layoffs are subdued. But that is also because corporate margins are at extremes already, there are so few non essential U.S based employees left to lay-off at these firms. The ADP numbers show that the economy is at stall speed and not creating enough jobs to support population growth.
By the end of the day it was again all about the FOMC minutes. In their usual policy statement the FED releases, the following text was added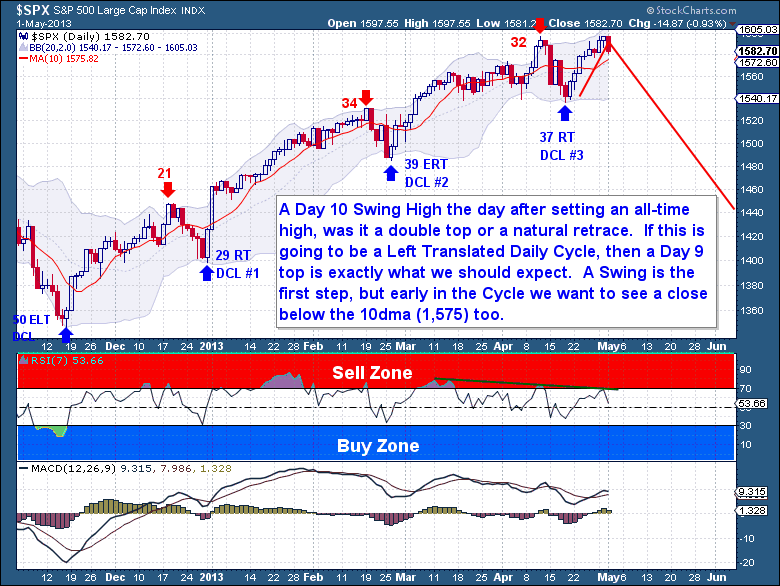 The Best Kind of Fear – Weekend Report
I've saved the most positive gold development for last this week. By far the biggest change this week has been the COT report and its now the most bullish I've seen it in 4 years! Essentially commercials are net short the least amount since 2008, while the spec's are net long the least. The small spec position has completely dropped off the chart and this is the type of fuel that will support major rallies. But just like sentiment, COT is a great predictor, but not a perfect timing tool. At these levels I believe that a significant rally is getting ready to unfold. Unless we're already on Day 10 of this new major rally, this data supports the idea that this is now Week 18 and the final stages of this bear market lie directly ahead.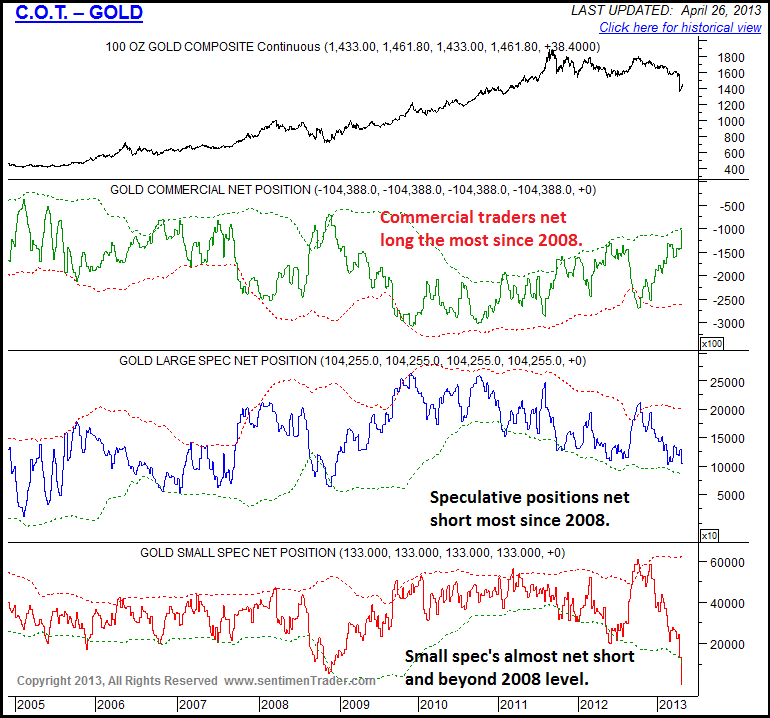 Midweek Market Update Report – April 24th
The volatility in gold is dropping quickly as the record volumes and price movements seen in the past few weeks are now down to a crawl. The selling has abated and relative calm appears to have returned. But despite the endless gold site coverage of surges in demand for retail gold coins, demand for physical gold remains anemic, as evident by futures volumes and pricing. This suggests to me that although it has been a decent 7 day rally out of the prior low, it remains more likely a bounce out of oversold levels rather than the start of any significant new rally.
For now that remains more of an observation than fact, as the two scenarios I presented within the weekend report are still firmly on the table. Even though I would love for this to be the beginning of a glorious new run, I'm impartial to gold's short to intermediate term outlook. There has been significant technical damage to gold's chart and the remaining die-hard gold investors are running scared, literally ready to "jump ship". The trend has been down for 18 months, so the realist knows that this is a confirmed bear market now, any opposing view is based on hope, not fact.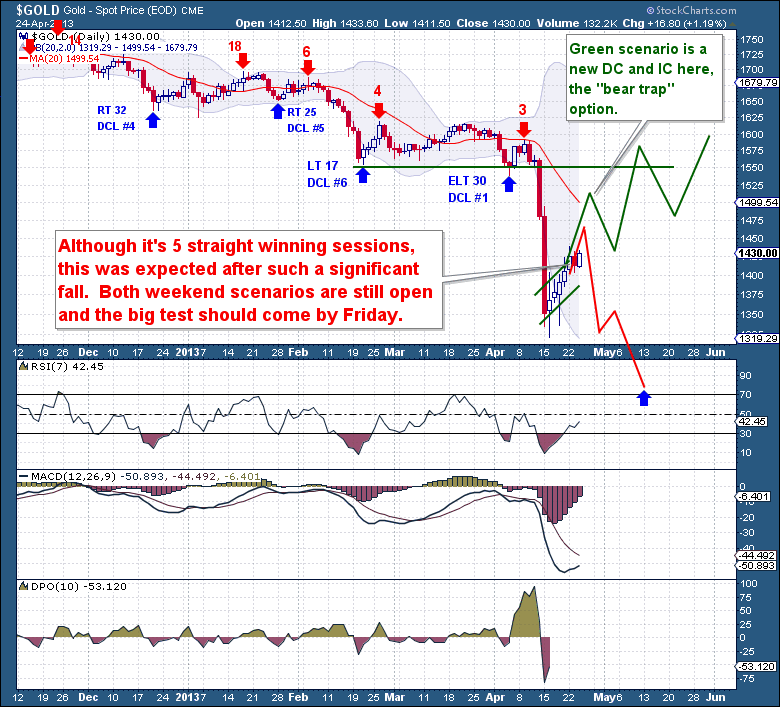 Hanging on a Thread – April 20th
This would fit the pattern of tops shown since the start (2009) of this 4 Year Cycle. Of the 3 Yearly Cycle tops since, two of these occurred in April while the 3rd occurred in May. If my expectation of an IC top here is correct, then that would make it 3 out 4 tops in April with the 4th one month later. The typical decline into a Yearly Cycle Low (YCL) is a pretty brutal sell-off and is generally a 3 month affair. That would suggest that the selling should intensify over May (sell in May) and continue well into summer before finding its next major Yearly Cycle Low.