Turning Tides
On the chart above, I drew a trend-line that shows deeper prices into the coming week. And of course, I'm the first to admit that nobody can time the daily movements within an erratic asset. But as we've yet to see a true panic selling session in gold, I'm inclined to believe that we still have that DCL event directly ahead. Let me make a point here, if gold does rally next week in a new Daily Cycle, then I would extremely wary as it would likely be just a bear flag in the making. Continue reading →
Midweek Market Update – Sep 24th
The dollar is turning into a bull and giving new meaning to the term King Dollar. It continues to refuse all attempts at a Cycle Top and appears to be digging in for the long fight. That's bull market like behavior right there and the type of action that is more likely to have longer term (bullish) implications. Continue reading →
Must Make a Stand
What we're looking at here is potentially a scenario similar to how the last secular bear market bottomed. As the miners put in their final low during November of 2000, gold went on (only 16 weeks later) to form a final, failed ICL in March of 2001. As gold put in that low, the miners were diverging and were up 30%. From that point on, they never looked back.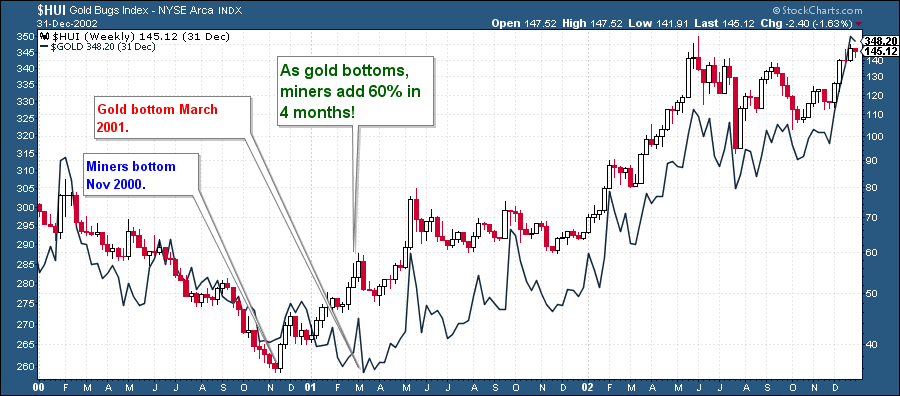 Continue reading →
Midweek Market Update – Sep 17th
The market really did gyrate wildly today with the FOMC announcement. But the minutes and FED's statement didn't offer anything new to ponder. The tapering of QE continues and is nearing an end, while language regarding interest rates essentially was unchanged.
Why that news warranted such movements or why it would be viewed as any more bullish is beyond me. But the point is really not what the FED is doing anymore; we have a firm understanding of that landscape now. This market continues to find any and every reason to put a bullish spin on what is fast becoming an unsustainable bull market advance. Continue reading →
The End(s) is Near!
In closing, I circle back to a recurring theme…that the evidence currently supports both bullish and bearish views. With Gold still in a well-established triangle pattern, the uncertainty is not surprising. This week, however, the bear has begun to stir, with Gold pushing lower and taking out a key Cycle pivot. The current set up is undeniably negative, and odds are that we are still several weeks from an ICL. So the only prudent expectation here is to the downside. The downside case is supported by the current trend, and a test of the last Yearly Cycle Low (June 2013) at $1,179 is likely coming. That is the last line of support for Gold and potentially where the bulls will mount an attack. Continue reading →
Midweek Market Update – Sep 10th
At this point, the dollar is extremely overbought. From a timing standpoint, it is well overdue for a Daily and Investor Cycle top. Sentiment and COT are at extremes too, so the "evidence" calls for a fall over many weeks. I know that doesn't seem likely here, especially when one looks at the massive spike on the chart below. Continue reading →
Late to the Party
The Euro is now on a 22 week losing streak and over 40 weeks have elapsed since the last ICL. An asset under such extreme pressure can remain grossly oversold for long periods of time, but in this case, I feel that this sell-off is now well overdue for a counter trend bounce. But I'm afraid the ECB has tipped their hand and further easing is only going to further pressure the Euro. Continue reading →
Midweek Market Update – Sep 3rd
A couple of roller coaster sessions within Crude Oil to start the week, but in the end, I'm sure my weekend call for a new Daily and Investor Cycle is correct. Yesterday's $2 drop was ominous, but with today's recovery, yesterday's move looks more like a whipsaw of new positions than anything else. If Crude Oil can better Monday's high of $96, then this will be a confirmed new Cycle. Continue reading →
Weekend Report – Aug 30th/31st
Not even the threat of all-out war in the Ukraine has an impact on the equity markets these days. The market has tunnel vision now, as it heads ever steeper towards that final peak. And now having taken out the psychologically important 2,000 level, there is nothing but thin air and uncharted territory directly ahead for the markets. Remember, putting valuations and future earnings aside, this market is now likely to continue higher until "the music stops". Continue reading →
Midweek Market Update – Aug 27th
Hope you're summer (for most) is going well. I have a slightly lighter update tonight, as I'm on the road this week with limited time or access to markets. There have been very few changes within all 5 of the …