A Peek Down the Shaft
As a secondary indicator of weakness, the action in the precious metals Miners is fairly convincing. We've discussed it many times – Miners often lead Gold, foretelling Gold's fate a day or two before it becomes clear on the chart. In this case, Miners formed a bear flag identical to that of Gold, then dropped on Friday below the flag in what is likely the beginning of the expected decline.

It is still early in the Miners' DC so a decline after 10 sessions could be considered just a normal retracement. But history shows we should expect a top before day 10, followed by a rapid collapse. The current advance has, to date, adhered to that script, with a weak volume climb followed by a day 10 bearish engulfing candle, a Swing High, a break below the trend-line and bear flag, and a close below the 10dma. Combined with the expectation of a Left Translated Cycle, these confirmations indicate that Gold will follow with its own top and then fall.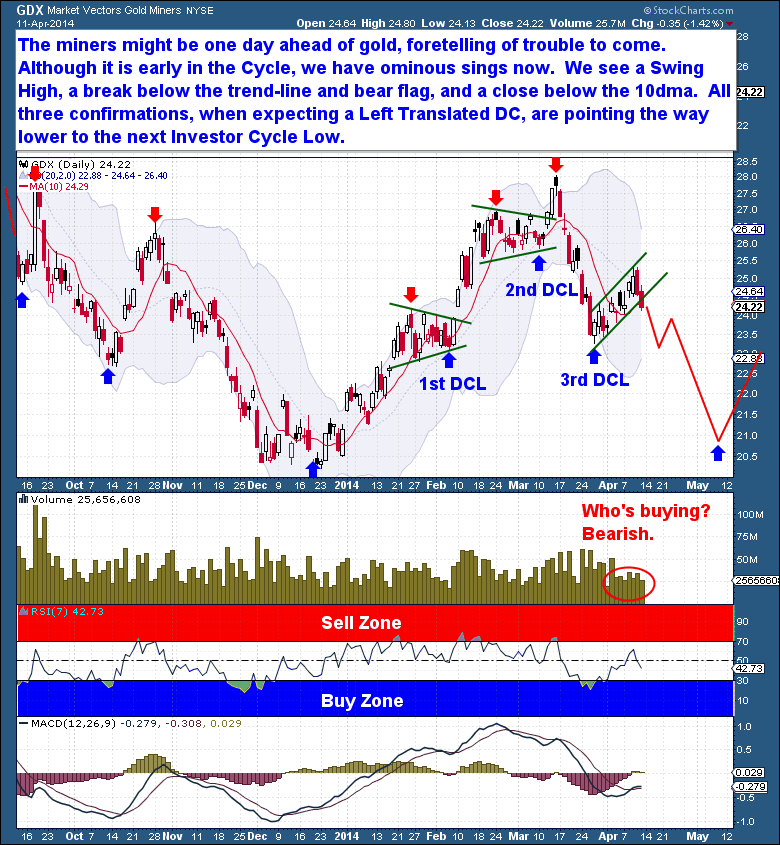 Market "Bloodbath" Update
Market "Bloodbath" Update
Midweek Market Update
All we have this past week is just a counter trend bounce off an 11 day sell-off leading into the last Daily Cycle Low. Once the oversold technicals have been worked off (pretty much there), then the first evidence that the Cycle has topped will come with a Daily Swing High ($1,300) followed by a close below the 10dma ($1,292).
Every 4th Daily Cycle, especially in a bear market, is Left Translated. And once they top, they typically fall hard and fast, only pausing to put in the occasional 2 day counter-trend rally. There is no point in over-thinking this setup, no point in looking for glimmers of hope. This Cycles picture is very cleanly setup and carries a high rate of success.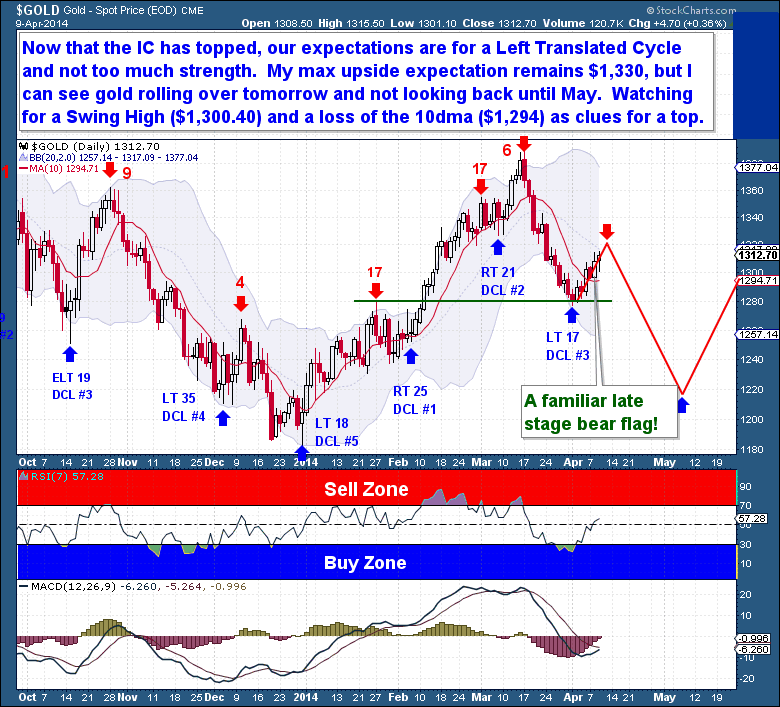 Slippery Peak
In true ECB style – meaning words but no action – the weapon of choice remains the use of rhetoric in an attempt to talk down the Euro. And very importantly, but somewhat lost in translation this week, for the first time the ECB made it clear they were willing to act aggressively. The board president said, "The Governing Council is unanimous in its commitment to using also unconventional instruments within its mandate in order to cope effectively with risks of a too-prolonged period of low inflation. Dramatic steps such as a negative deposit rate and large-scale asset purchases were discussed"

I'm not sure how long the ECB will be allowed to sit back and watch as the Eurozone maintains its current level of underperformance. The economy continues to struggle mightily, with Eurozone-wide unemployment at 11.9%, down only 0.2 percentage points from the record set last year.
Appreciation in the Euro is not helping many of Europe's struggling economies. States that are chronically uncompetitive and hostile to business have more recently had to contend with an expensive currency, making it difficult for them to grow out of their current malaise through exports.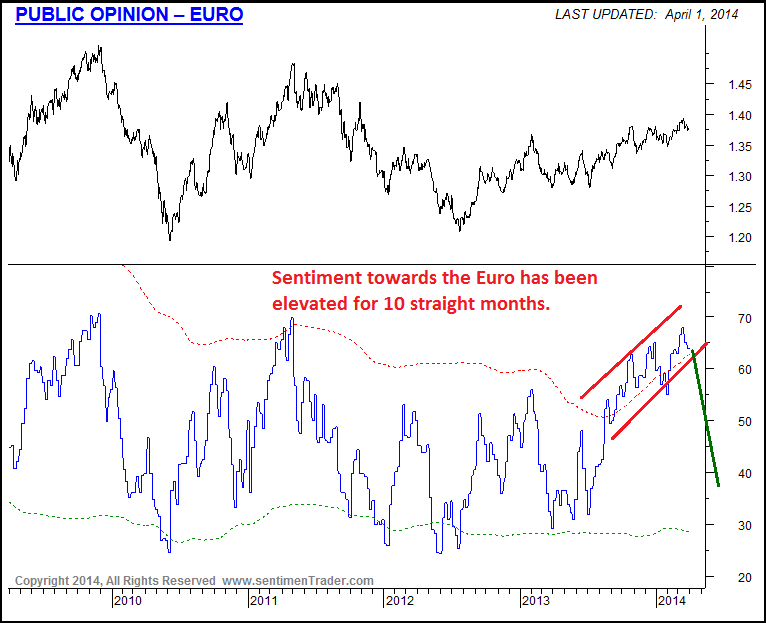 Knowing they need to get ahead of the problem before it runs away from them, the ECB talked this week about inflation and the extreme measures they could adopt to create it. So, with longer Cycles now in a position to turn lower, the Euro appears to be overdue for a significant decline.
The Euro Investor Cycle has confirmed that the Euro is in decline, just as the Dollar has confirmed it is in a new IC of its own. With the ECB intent on containing the Euro's appreciation and the FED talking about an improving US economy, the two central banks appear to be at opposing ends of the monetary accommodation spectrum.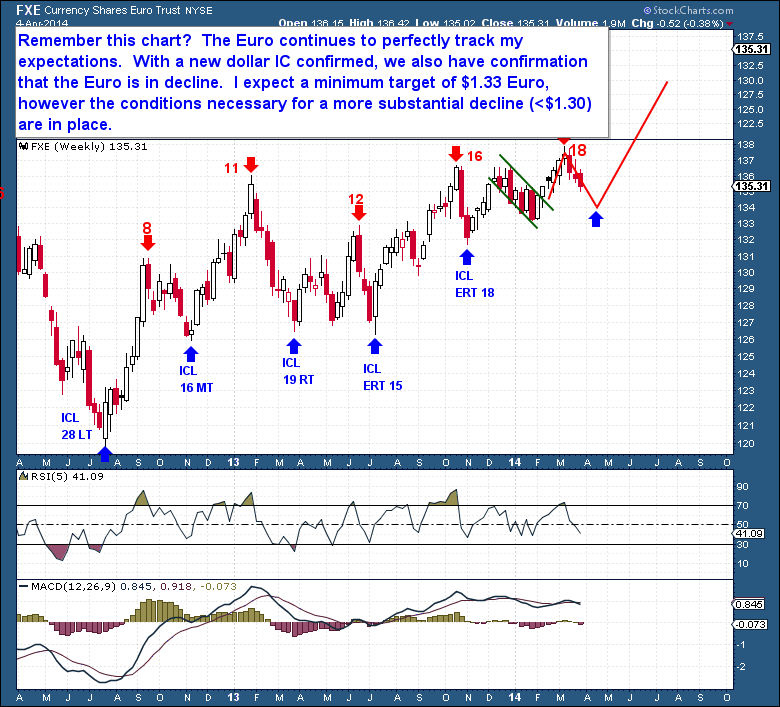 Midweek Market Update
The action out of the dollar is not exactly blazing. But what I can say, with little doubt, is that it has none of the characteristics of a final Daily Cycle. If the prior Investor Cycle were still in decline, I can assure you that the dollar would have failed and well on its way below 79 by now. So although we're yet to see an upside burst or continuation, the dollar should be fairly well supported on the downside here.
We still have a bullish chart working and we know from past Cycles that the dollar can "chop around" for a Cycle or two. And tomorrow is going to be a very telling day as the ECB announces it latest decision on interest rates, potentially opening the door for a change in policy. With the Eurozone inflation rate falling rapidly, while the Euro appreciates too quickly, the ECB might be forced to be a little more dovish in their commentary. As the path of least resistance for the Euro is lower, we could be in for a rather sharp move in the dollar tomorrow. Of course, markets can go either way.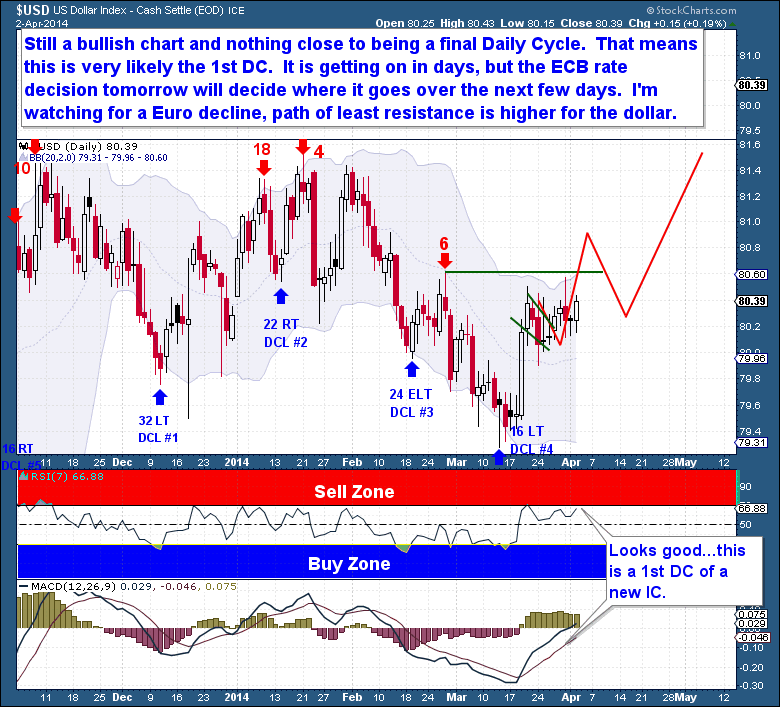 Broken Hope
It's safe to say that Gold's rally in early 2014 has peaked and that the Intermediate Cycle has begun to turn lower. Gold enjoyed 2 good months of brisk demand, fueled by soft economic numbers and the potential for a destabilizing geopolitical crisis. In late 2013, Gold was oversold and under-loved, allowing it to chart a path higher when the current IC began.
Gold performs best during times of uncertainty, whether from the threat of broad military conflict or extreme economic duress. The recent bull market (2008-2011) flourished because rates were being pushed aggressively toward zero, while the world economy continued to carry an elevated level of risk.
Since Gold is a non-interest bearing asset, it becomes attractive in deflationary environments. But with the current spate of better-than-expected economic announcements and the FED signaling plans to exit the current long period of accommodative policy, market models are beginning to factor in an improving economic landscape and rising interest rates. Lower perceived risk and rising rates are not a friend to Gold. Gold is primarily a store of value, a hedge against an across-the-board loss in capital in traditional assets.
Until we see the equity markets top and turn lower, most likely due to the realization that the world economy is turning over and moving into recession, I fear that Gold will continue to struggle. Regaining the lofty heights of 2011 will require a major shock to world markets and an impressive response by central banks. The underlying landscape needs to change; chaos needs to prevail to create a case for owning more than a minimal allocation in precious metals.
On the Daily chart, Gold is now significantly oversold, but still cannot muster enough demand to produce a bounce. The selling has been overwhelming and, in my opinion, greater than a typical Daily Cycle sell-off. The character of the current decline, supported by cycle and technical evidence, is highly suggestive of the decline after an Investor Cycle top. The below chart depicts a 3rd Daily Cycle that has failed, but which has another 8 (down) sessions left in the Daily Cycle timing band. We should expect an over-sold bounce followed by a drop into the 3rd DCL.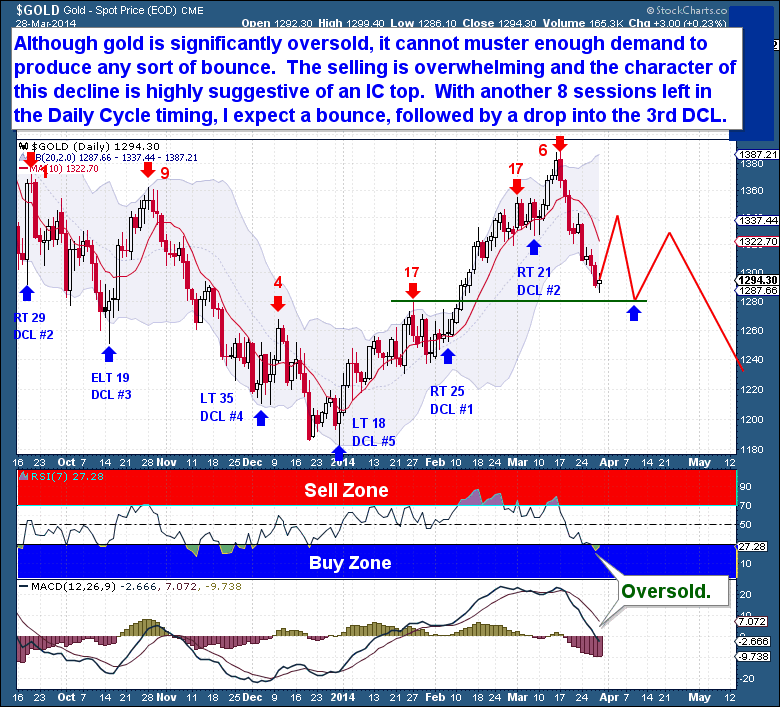 Midweek Market Update
Also we have an interesting development within the miners which should have all gold Longs concerned. With a fairly consistent track record of correlating to market tops, the precious metals miners' bullish percent chart has decisively turned lower. Once the charts of precious metals miners start breaking down like this, then it's almost always associated with Investor Cycle tops.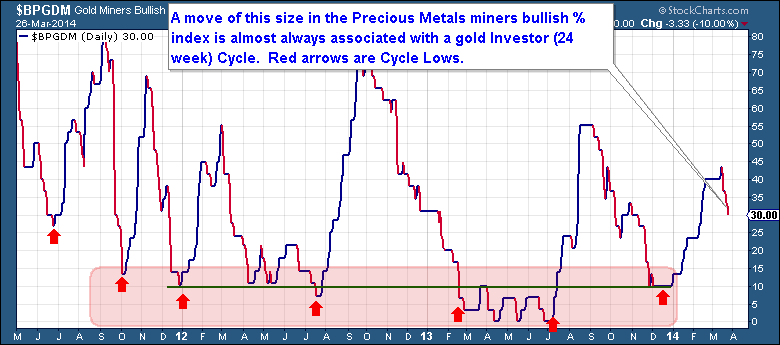 All About the Dollar
So if this ends up being a new IC, then there should be a serious amount of pent-up energy in this dollar Cycle. Tight trading ranges like this are capable of propelling an asset in a new Cycle in a very aggressive or sustained manner. We also must acknowledge that the 79 to 80 range has contained 4 out of the 5 last ICL's, so it has become a major line of resistance.
On the upside, if the 80.60 level is breached this week, then watch for a fast rally up to test 81.50 (last IC high). Also more importantly, if this is a new IC, then the gold and crude Cycles have already topped for their respective Investor Cycles!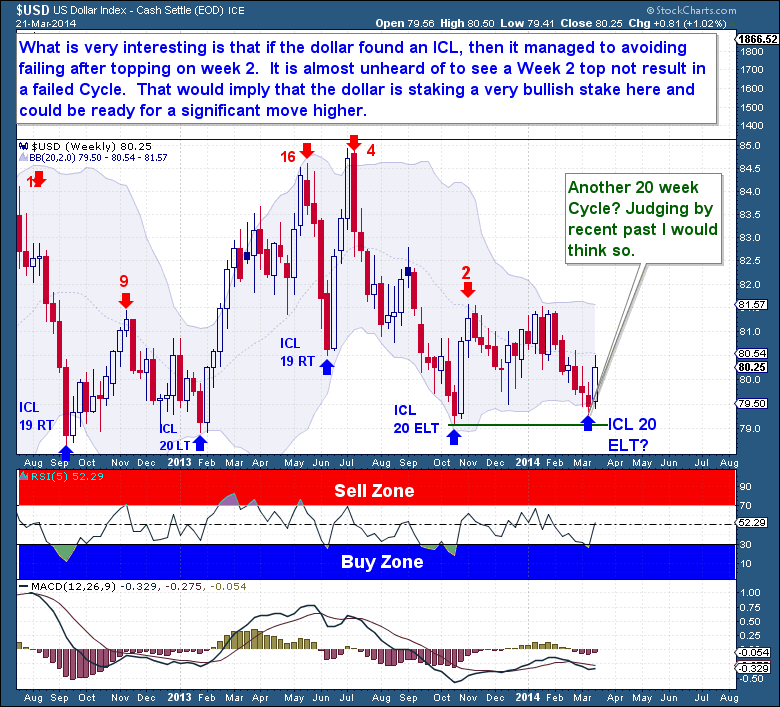 Midweek Market Update Report
I will discuss the merits of this announcement along with my analysis of the FED meeting within the weekend report. Briefly though, there wasn't much in that report that was new in my opinion. In fact contrary to what the market took from it, I believe there was text introduced that is very accommodating (in terms of liquidity and asset purchases). It's all posturing here, I doubt for a second the FED believes that the economy is now structurally and on sound footing. To tighten rates is not only to believe the economy stabilized, but to flat out expect robust growth. Notwithstanding the fact that a natural business Cycle downturn (recession) is now in the timing band, to propose a new tightening period (raising rates), when debt levels continue to soar, is just pure economic suicide. It will never happen.
The point is the market's response today is probably just reactionary and simply a move in the direction of least resistance. Before today I've positioned myself expecting this to be just a brief counter-trend bounce, back to the 10dma before continue to a scheduled DCL. And I believe today's large bearish engulfing candling is confirming this viewpoint, that the decent into the DCL will now begin, with much more widespread participation.
Euro Love
By now, Members should be well-acquainted with the current expectations for the Dollar – it has followed a Cycles framework that has not deviated during the past 2 months. There is no point in over-analyzing the current developments – the Dollar's Daily and Investor Cycles are within days of major Cycle Lows.
The Dollar has continued to roll down a slippery slope, and further downside should be coming. But at this point, caution is warranted as it has entered into the timing band for an early Daily Cycle Low. Although I don't expect it quite yet, a Cycle Low could come at any time. Because this should also be an ICL event, I expect a real capitulation sell-off to mark the Cycle's end.