Back on August 29th, with the S&P on 1,644 and oversold, the bears were confident that it was finally going to be their time. But Cycle followers knew better, as the S&P was moving out of a deeply oversold Cycle Low and the trend was firmly still to the upside. That day I published this "Buy on Cannons" and called for an immediate rally back up to 1,710.
Of course since then, the equity markets went on to make new all-time highs, on the back of the FOMC announcement. That surge placed the S&P into deeply overbought territory, and the Cycle had quickly stretched far ahead of itself. So it has been no surprise to see weakness in the equity markets, I called for a Half Cycle drop last week (within the member reports) and now it's progressing lower as we expected. It's taken a nice little fall, yesterday being the first 5 consecutive day decline of 2013. But the reversal is likely in its closing stages now; it is after-all just a Half Cycle decline. Up to the close yesterday, the S&P had marked a 38.2% retracement of the Daily Cycle. Looking further below, the 50% retracement and 20dma level are down at the 1,680 mark, and that should provide a floor to this Half Cycle Low decline. Up until that 50% retracement level, this would remain a normal retracement of a very powerful Daily Cycle.
The coming bounce is going to reveal so much about this Investor and Yearly Cycle. This bounce should also be the final opportunity to make further all-time highs, for both this Daily and Investor Cycle. I believe any new high will mark the top of both Cycles, and from there it will be primarily down for another 1.5 Daily Cycles (60 trading days). As equities are well overdue to begin the decent into what promises to be a deep, corrective (at least -10%) Yearly Cycle Low, I have a suspicion that the coming bounce will fail to make new highs.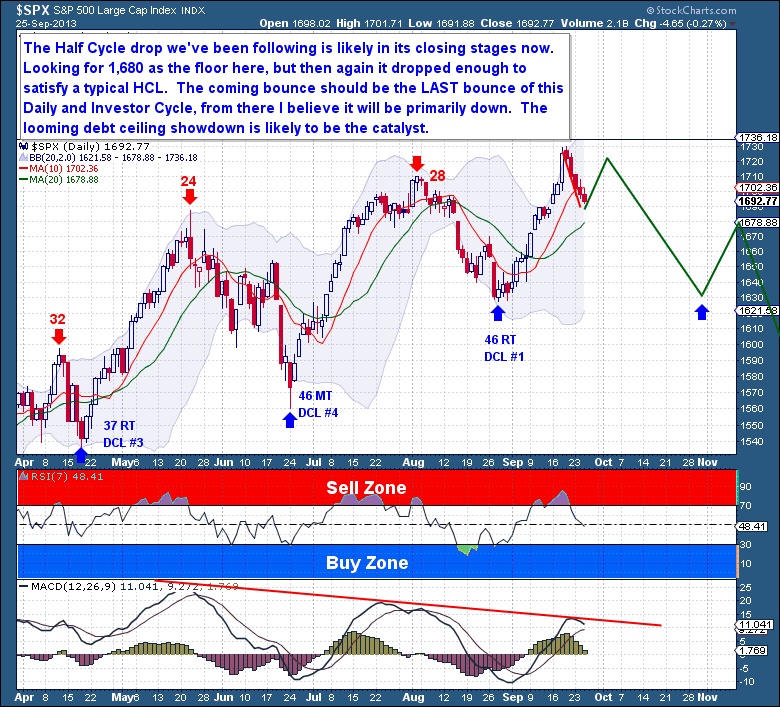 We're headed for a showdown in Washington over government funding and raising the debt ceiling. Both parties are playing a dangerous game of cat and mouse with world markets, and they've now both boxed themselves into a corner. At this point, the rhetoric has been so heavy and passionate, that it will be hard for both parties to find any common ground which avoids looking as a defeat in the eyes of their constitutes.
I have little doubt it will end with some form of compromise, a last minute aversion of a crisis. But the anxiety and panic this will cause should be too much for the equity markets, as I believe this will be the ultimate catalyst for a significant fall into the Investor and Yearly Cycle Lows. Don't get me wrong, this will not be the reason, rather simply a catalyst to accelerate the turning of a Cycle. A move towards a Yearly Cycle Low is inevitable.
The Financial Tap publishes two member reports per week, a weekly premium report and a midweek market update report. The reports cover the movements and trading opportunities of the Gold, S&P, Oil, and $USD Cycles. Along with these reports, members enjoy access to three different portfolios and trade alerts. As these portfolios trade on varying timeframes (from days, weeks, to months), there is a portfolio to suit all member preferences.
You're just 1 minute away from profitable trades! If you're interested in learning more about The Financial Tap and the services offered, please visit https://thefinancialtap.com/landing/try#
Free Report – Complete the form below
0
0
Bob Loukas
https://thefinancialtap.com/wp-content/uploads/sites/19/2021/03/NEW-Financial-Tap-LOGO.png
Bob Loukas
2013-09-26 08:45:58
2013-09-26 08:45:58
The Final Run