One lesson I've gleaned from years of Cycle study is that the natural timing for a Cycle Low should not be easily dismissed. It's not a bearish development (within normal parameters) to see an asset decline into a Cycle Low; Cycles reflect the natural flow of an asset during a trending move. In fact, bulls should be cheering for a decline here as it would serve to fuel a more sustainable 3rd Daily Cycle. From a trading standpoint, a normal DCL would provide a much clearer picture of the current Cycle's count, allowing us to shape and enter trades with greater confidence.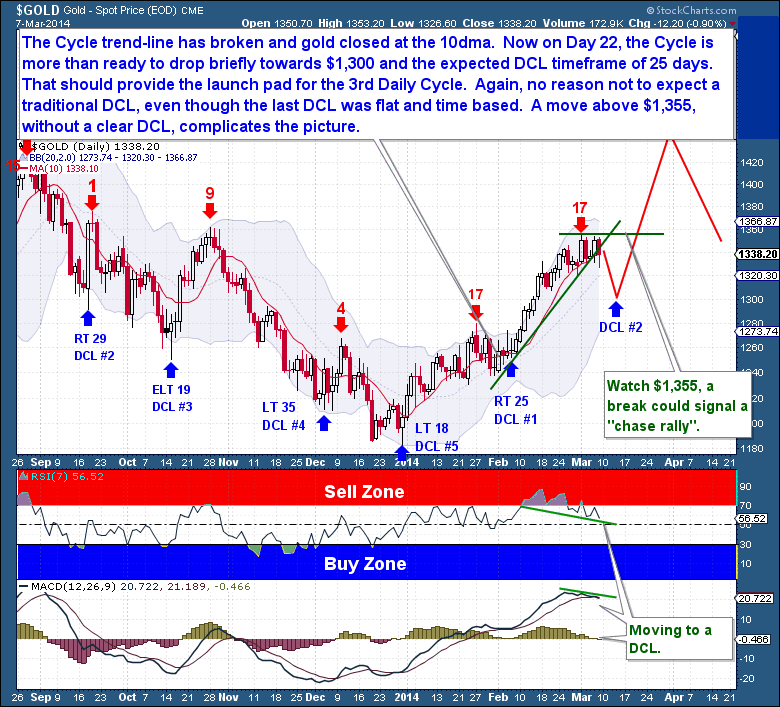 Just as I reported this past weekend, the dollar is staging a weak, counter-trend bounce. The massive fall towards the end of last week was too quick and fast. What the dollar is doing now is simply reverting itself back to the declining mean, before it prepares for a much deeper fall.
That plunge last week, which confirmed another Cycle failure, was just a precursor for what is to come. The dollar has moved perfectly to a predictable Cycles pathway, pretty much for the entire Investor Cycle. And I really see no reason why the concluding chapter of this IC should be any different. Friday is a big market moving event (Monthly employment report) and it's possible that the final decline will begin with that announcement.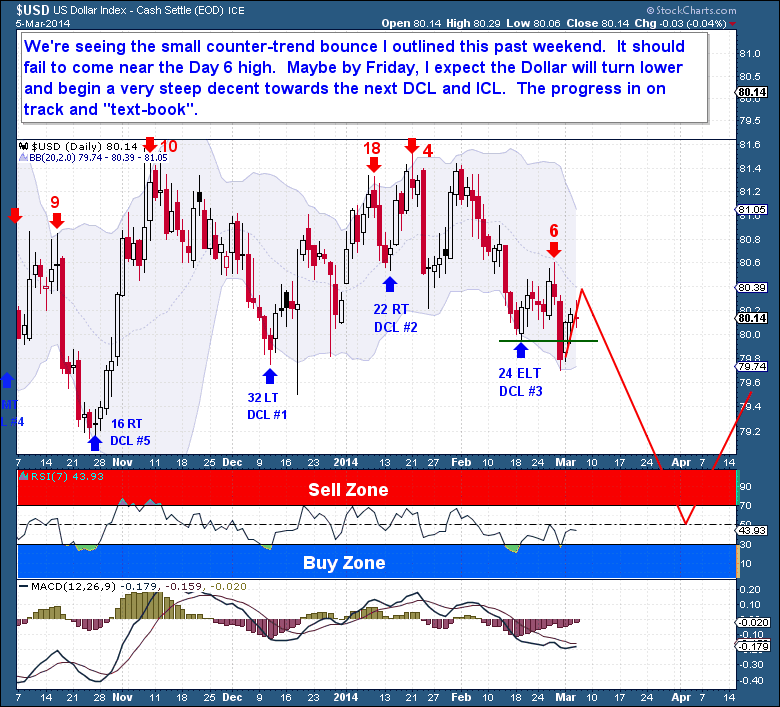 The weekly Bond Cycles mirror most assets by moving in 22-26 week Investor Cycles. Up until the summer of 2012, Bonds had been caught in a series of Left Translated Investor Cycles that drove bonds substantially lower. This has been evidence within the 10 year yield rate (which trade inversely to bond prices) which recently peaked at the 4% rate.
But a shift or trend change certainly appears to be underway now. Bonds are on week 9 of their current Investor Cycle and are tracking a similar path to the Gold Cycles. After 3 consecutive failing Investor Cycles, the last Cycle managed to hold above the prior ICL and form what appears to be a long term double bottom. Subsequently, bonds have broken above the prior Investor Cycle High, supporting the double bottom theory, and in the process indicating that higher prices lie ahead.
Today we had a fairly powerful move which broke the trend-line, confirming what I had already marked days early as a new Daily Cycle. The surge also placed considerable pressure on the metals and it is possible we will see further pressure placed over the next few sessions. But now into Day 6 of this 4th and likely final Daily Cycle, I expect we're going to see this "textbook pattern" continue. Remember, this is the 4th Daily Cycle, so it should form Left Translated and fail. The Investor Cycle is "hanging" and ready to roll-over, its cue will come once this 4th Daily Cycle tops. That means we should be just 2-5 sessions from a DC Top. But more importantly, very close to the point where the pull of the looming Investor Cycle Low will be too great to resist.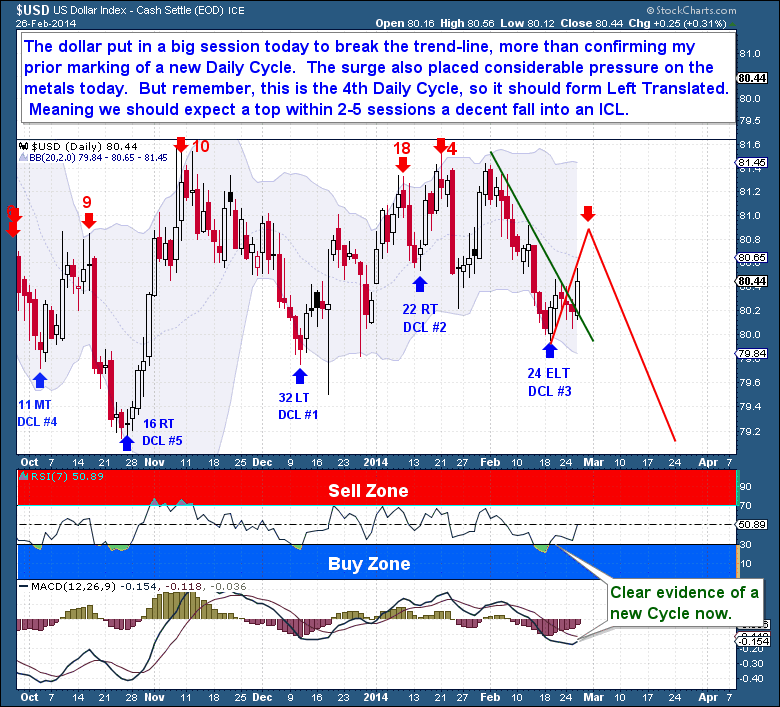 But now some clarity has returned, at least for the short term. As Crude enters the timing band for a Cycle Top, we don't need the longer-term trend to formulate a reasonable short-term expectation. Crude will begin Monday's session on Day 30, coming off a Daily Swing High. So odds now favor Crude rolling over into a profit-taking Daily Cycle Low. But since Crude has shown a tendency to move in extreme and sustained moves, further upside (into Day 33-35) cannot be ruled out.
So it's prudent to respect further upside, at least during the early part of next week, while acknowledging that the Cycle could already be in decline. And if the 10dma and trend-line are lost this late in the Daily Cycle, the decline toward a DCL will be confirmed.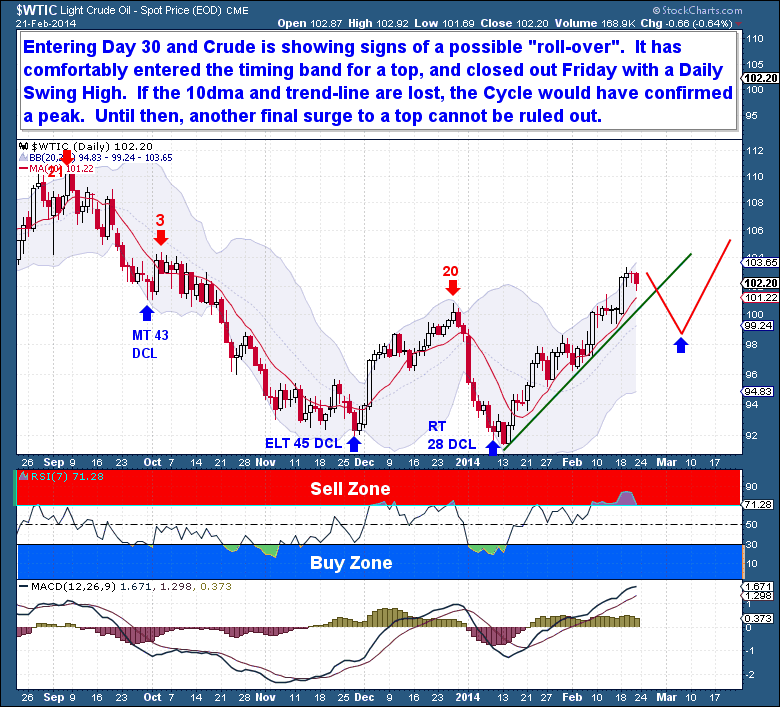 I never did believe equities could punch through all-time highs on the first attempt, especially from such an overbought rally. It's why I outlined within the weekend report that we would likely see an "illusion of a double top" this week. Once the S&P turned off all-time highs, the Cycle would drop back to consolidate the gains of the first 10 sessions of this Cycle. So to serve mainly as a guide, I see the most likely outcome as the S&P consolidates over the next 2-4 sessions, before it gathers enough energy to sustain itself for a run and breakout into all-time highs.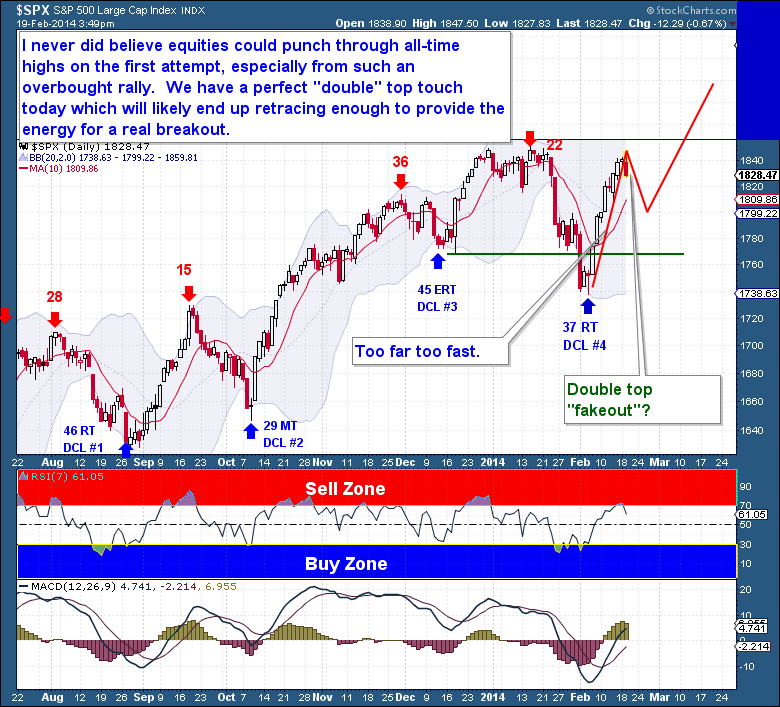 This was another great week for equities – they recovered their losses more quickly than the losses piled up. Typically, big drawdowns into a Cycle Low happen quickly, while recovery back to the previous high can consume the entire 1st Daily Cycle. Not in this case, however. The 6.5% that was lost during the Cycle decline has been nearly completely recovered in 8 sessions. And the NASDAQ has pushed to new bull market and 14 year highs.
The media is promoting the idea that worries about the economy have now been cast aside. That the markets are looking at earnings that have held up relatively well (due to continued margin expansion, not revenue growth) and have cast aside macroeconomic realities. But that's not what's really occurring – the markets are actually factoring in a softening economy and extrapolating this to mean that the FED will remain accommodative in 2014.
The FED's new Chairman, Janet Yellen, stated that, "economic growth has strengthened and there is broad improvement in the labor market". She reiterated the FED's dovish stance and will continue with previous policy. She said that a "notable change in the outlook" for the economy would prompt policy makers to slow the pace of tapering, meaning they would continue with QE.
The labor market Yellen referenced is a lagging indicator. Employment numbers are, on the surface, never an accurate indication of the current state of employment or the economy. A better indication of the current economy is likely found in the recent January manufacturing output, which had its biggest drop since 2009 when it fell 0.8%. Retail sales fell 0.4% versus expectations for a slight increase, and US industrial production fell 0.3% in January when the expectation was a 0.3% rise.
I'm not trying to draw a correlation between a weakening economy and a lower stock market. Actually, my conclusion is the opposite. What I'm highlighting is that an economy in decline will force Yellen to stop the tapering of asset purchases, which is not the markets' current expectation. If Yellen does not taper by $10B per month as announced, then we're talking about an additional hundred billion plus per year in asset purchases which are not psychologically priced into the current market. It would be, in effect, another round of QE.
The market has been bid higher for 2 years on speculative forces, so the idea of asset purchases continuing longer is a welcome one. At this point, the market's fundamentals do not support the current level of valuation. But the expectation of continued FED liquidity is supportive, because it helps to feed the speculative forces that have driven the cyclical bull market.
Ironic as it sounds, this stock market cannot be sustained by an improving economy. Improvement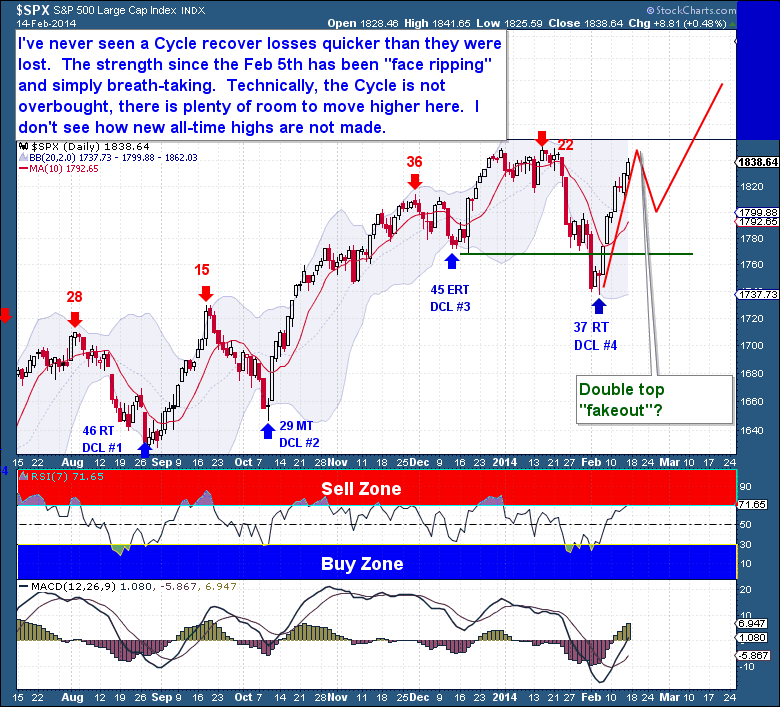 Well, I certainly did expect a move back to 1,820, under both the bullish and bearish case. I just didn't expect it to occur over just 5 short sessions! This strength in equities is truly amazing; there is just no other way to describe how the markets were able to bounce back so strongly. Where this Cycle stands today, no one should be remotely considering betting against this trend. If you don't believe or buy this rally, then step aside.
The 5 Day move off the last Cycle Low was one of the most powerful of this cyclical bull market. Yet again, buying the dip is proving to be successful. I don't know exactly what it is however, but the tape feel almost contrived and suspect to me. I can't put my finger on it exactly, but I feel that the rapid decline into a Cycle Low was just too quick and relatively shallow to support this type of reversal.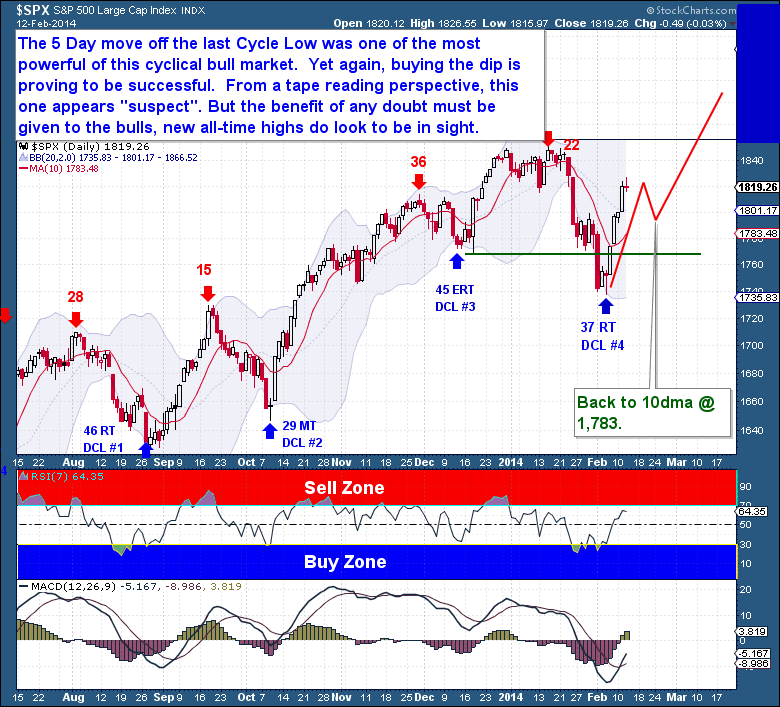 So much for the FED's tapering causing a massive exodus out of bonds. Instead, what we clearly see is an early rotation back into bonds. The Investor Cycle just successfully (see chart) retested the prior ICL, ending a series of failing Investor Cycles. It is interesting that the rally since was the first Investor Cycle to break above the prior Cycle high in almost 2 years. That double (upside) confirmation broke a trend of 4 full Investor Cycles where both the high and low of the Cycle formed below the prior Cycle.
That by definition was a bear market. In many ways, the bond Cycle is not too dissimilar to the gold Cycle. A risk on runaway equity market rally encouraged capital to flee more traditional safe haven assets as the gains within the equity markets were just too high to ignore. If I had to read into this action, I would say that "smart money" is beginning to rotate back into the safe haven asset classes as the Cycles begin to turn.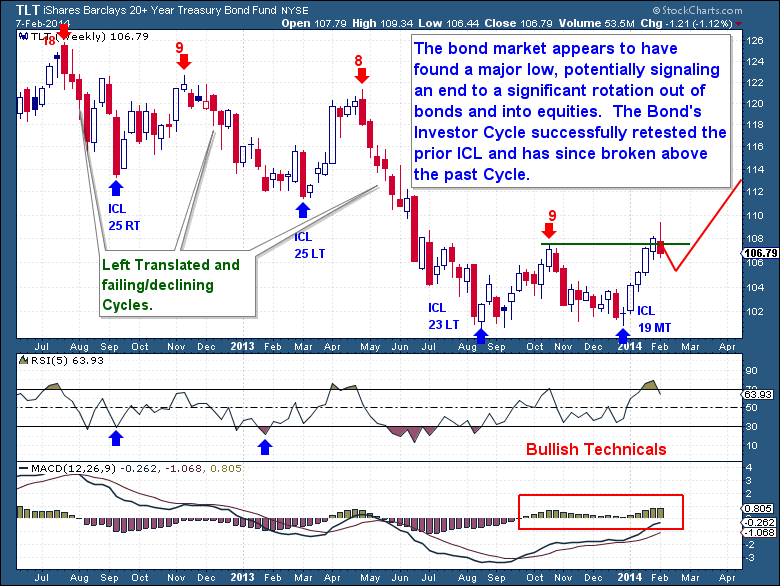 So let's not rush the process; there is absolutely no reason to be impatient here. Remember, 1st DC's average 30 days in length and this is just Day 25. Typically, we see a full 10 sessions from the Cycle High to the Low, today was just the 7th day. Of course, these are just averages, to be used as guides, but they do shift the odds in our favor. They tell us the expectation should be for a dip lower, before we see higher prices. Considering we have not seen a decline remotely resembling a Daily Cycle Low, I see no reason why gold should move above $1,280 (current high) before it first shows us a decent Cycle Low sell-off.