Equities rallied sharply on Friday after a positive jobs report was announced. This was actually not the expected reaction though; as positive economic news should have served as a threat the FED would remove the "punch bowl" of liquidity. A tapering of bond purchases would leave the stock market vulnerable, as this rally has been fueled by cheap money sloshing through the economy. If a tapering were to begin, it would signal the start of a long process of FED tightening. This would mean an immediate need to begin pricing the markets according to more traditional metrics. With current earnings growth rates barely positive, this would leave the market exposed to potentially serious devaluations.
So it's difficult to see what the market rallied on this Friday; certainly all prior hints of a FED tightening sent the markets into a tailspin. It could simply be that this speculative runaway is now destined to blow-off, no matter what the FED says or does from here. The market could well have entered the point of no return, as this is also evident by a long series of Cycles that are retracing shorter and shallower at each Cycle pivot.
Another school of thought to explain the rally is the inflation rate, or the lack of "reported" inflation. The rate is now below 1% and well below the FED's mandate to keep inflation at a healthy 2-3%. If these deflationary forces continue to build, there is absolutely no way that the FED will begin a tightening phase. The markets could be telling us that the FED's liquidity pumps cannot be shut. Remember, the FED is now fully committed to seeing this grand experiment through to its conclusion. The perception, admittedly right for now, is that they're succeeding in averting a super Cycle (70 year Cycle) deflationary crash. Whether you agree or not with the FED's actions, it's impossible to question the FEDs commitment and resolve in this effort.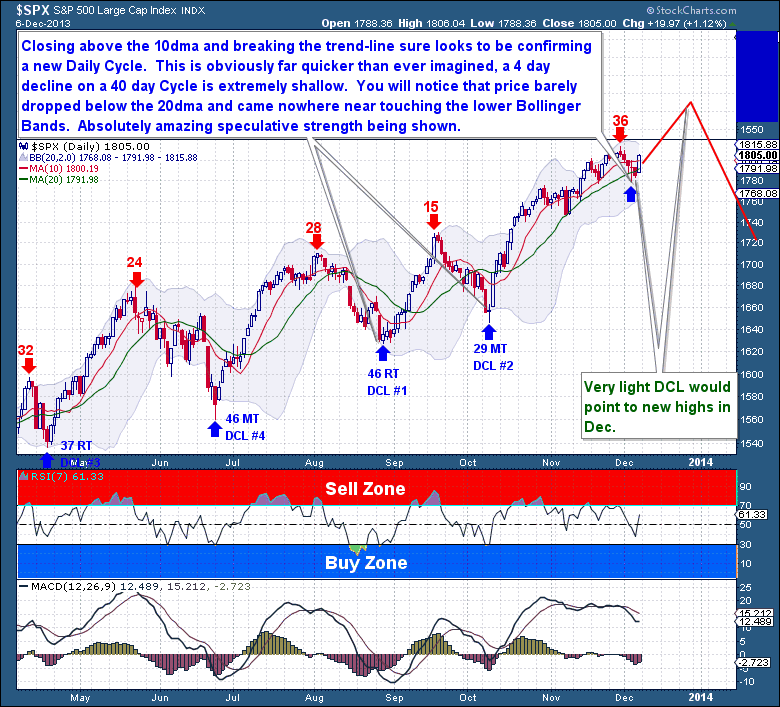 Our wait for a DCL and likely an ICL has ended. As for the confirmation we've been seeking, the below picture says it all. The massive surge on Tuesday, which occurred very deep in the count, was more than enough to confirm that crude has turned a new Cycle.
Already crude is temporarily overbought and I expect a period of 1-3 sessions will be needed to consolidate these gains. But if this is the suspected 1st Daily Cycle, we could be looking at only a mild retracement before the Cycle continues on to push the $100 mark. There is plenty of room up ahead; the last Cycle collapse has provided enough energy here to at least satisfy an impressive counter-trend rally.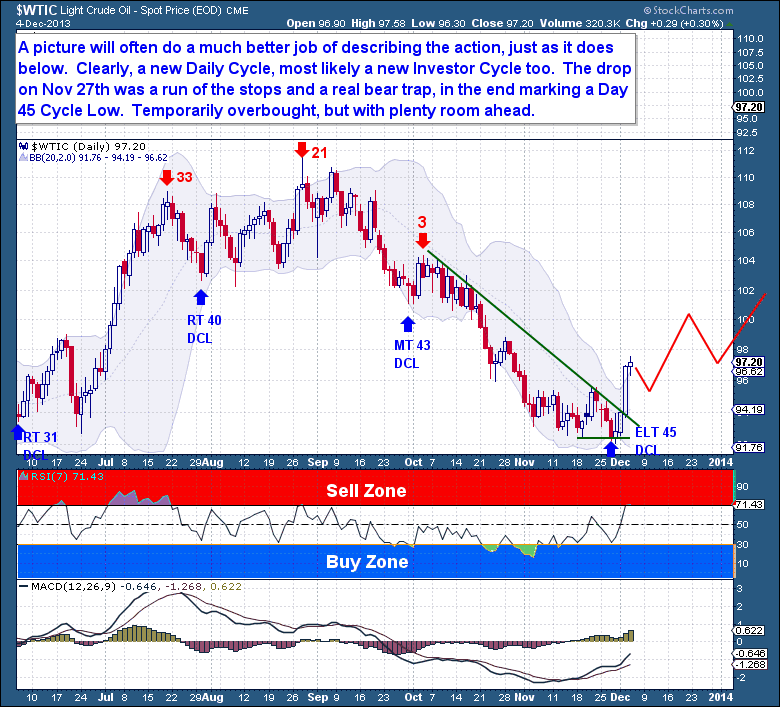 Although it's not a clear DCL yet, we do show a Day 29 low, which in my opinion holds an excellent chance of marking a DCL. It was deep in the timing while gold has since shown signs of strengthening. A "wounded" asset I find hard to trust, but any close from here above $1,255 should be enough to confirm a new Daily Cycle. That move would confirm a Daily Swing Low, a break above the 10dma and the declining trend-line. That trifecta of events this late in the Cycle should be more than enough to call a new Daily Cycle.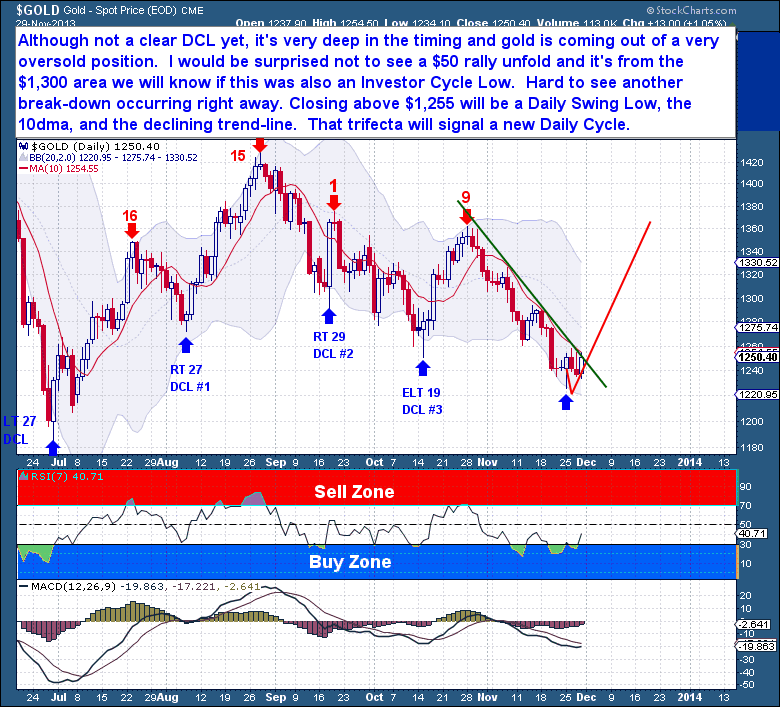 Thanksgiving Message
Although crude isn't exactly "powering" out of a Cycle Low, as is normally the case after a deep decline, there is little doubt now that this is Day 4 of a new Daily Cycle. Considering the last Cycle topped on just day 3, resulting in a 34 session rout, I would be very surprised if we didn't see a considerable amount of strength begin to show through starting next week.
In addition to an expected oversold rally, we must factor in that this is almost certainly a 1st Daily Cycle. Even in a bearish Investor Cycle situation, the expectation for the 1st Daily Cycle is that it will form Right Translated. For crude Cycles, that generally equates to highs found beyond the 20th day of the Cycle.
How a 20+ day high relates in terms of price appreciate is not always clear or predictable. Cycles are a measure of an asset's oscillating sentiment over a given period of time. But a general expectation would be that even a counter-trend bounce will show a 50% retracement of the prior Daily Cycle. In that case, a forthcoming move back to the $98 area is my minimum expectation.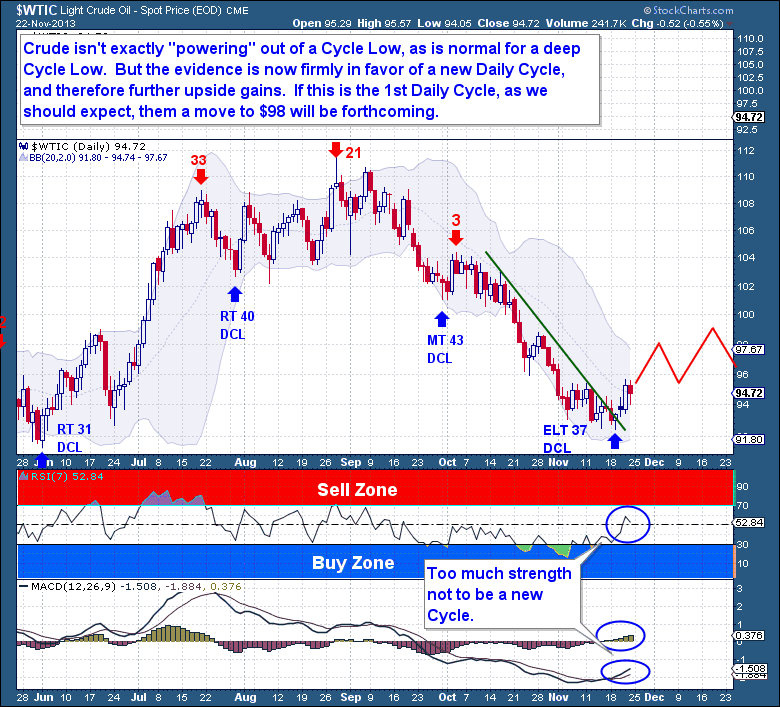 Another reason to expect further gold weakness is due to the dollar's new found strength. The weekend analysis identified what appeared to be the dollar consolidating into a mild Daily Cycle Low. As it turns out, today's aggressive rally sure appears to support the expectation of the 18 day DCL posted this past weekend. One day does not confirm a new Cycle, but I would be surprised if the dollar didn't confirm this new Cycle by the weekend report.
In that case, Day 10 will remain the prior Cycle top and the move towards a DCL would have completed on Day 18. That makes sense, being that this was a 1st Daily Cycle, the expectation was for a Right Translated Cycle. From this point forward, we should be on the lookout for a similar or somewhat more bearish Daily Cycle. The first target I expect to exceed is the prior Cycle high of 81.58. From there, a rally up to Day 7-10 might be all we get, simply because the Euro is seeking an ICL and I expect the Investor Cycle to top early. That would give us a weekly (Investor Cycle) high around week 7 and within the vicinity of where a Left Translated Investor Cycle should turn lower.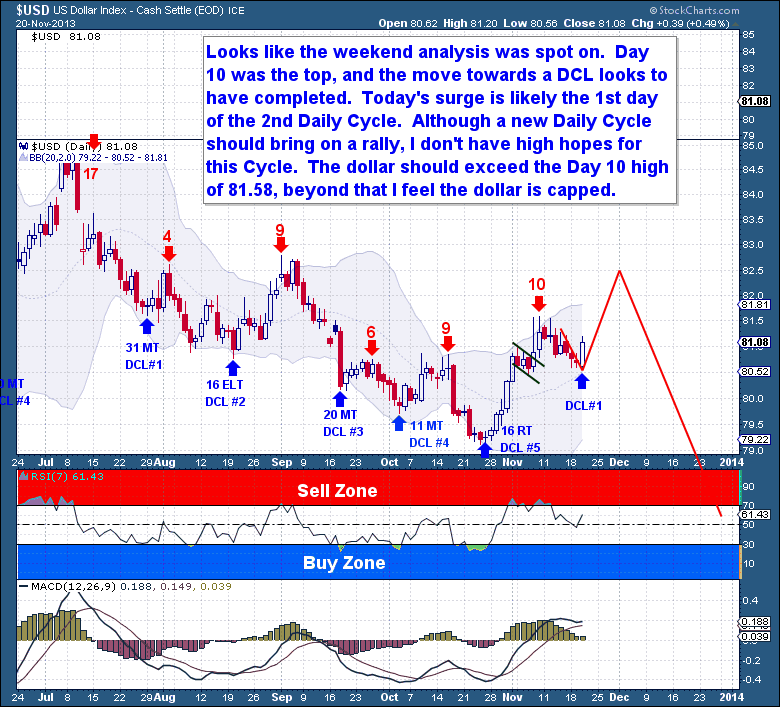 To satisfy my expectation of an ICL in the $1,210-$1220 area, Gold will need to endure yet another, more violent, step-down decline. A final drop is needed to wash out the remaining bullish sentiment and to push the weekly Investor Cycle down into a more recognizable Cycle Low. Because the Cycle is already 24 days in and price has churned sideways for 3 days (a bear flag), the final 3 day down move should begin almost immediately.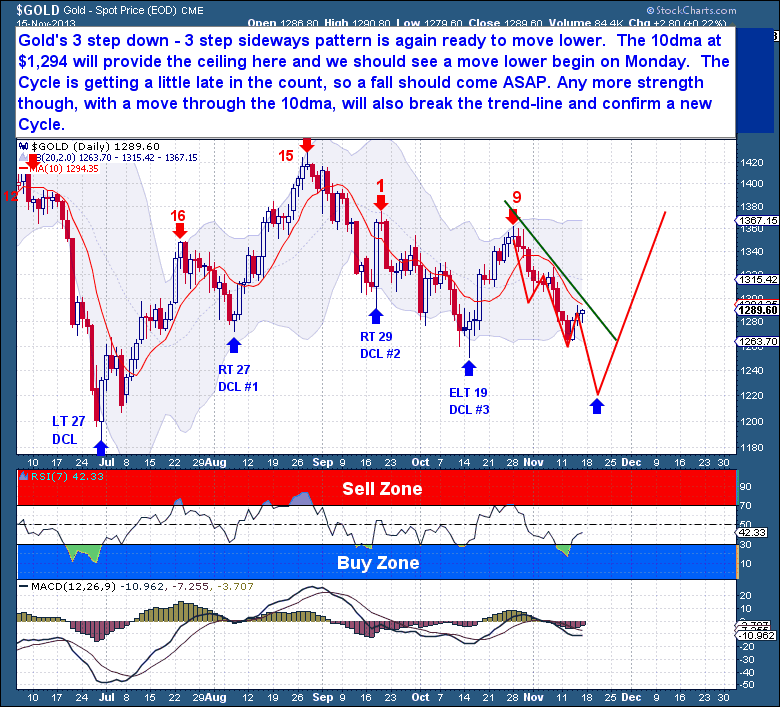 So I do hope, and expect, to see one more significant fall. If that is to be the case, then we should not see a further recovery in price, it should be literally all downhill from tonight on. The lower Bollinger Bands are at $91.86, so a fall through them towards $91 should suffice for our next DCL. Caution though, exceeding $95.22 (Tuesday's High) on the upside would most certainly mean a new Cycle has started.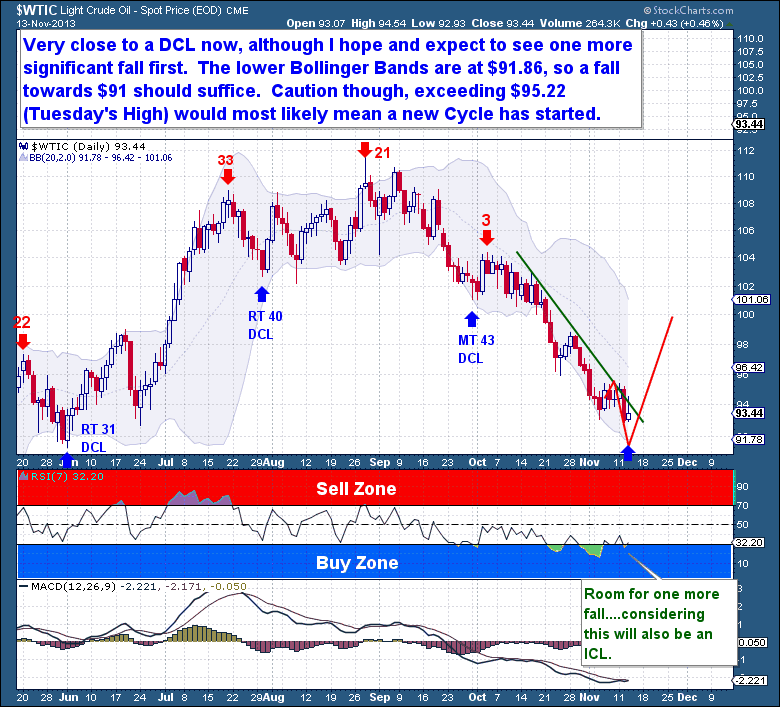 There is no doubt that Thursday's 20 point in the S&P marked the Half Cycle Low. The midweek report detailed that the current Daily Cycle was consolidating via time and not price, a bullish development which points to further short term gains ahead. The report also suggested that a quick drop to the 20dma would likely to mark the HCL. The drop came on Thursday, with price subsequently springboarding off the 20dma in a classic buy-the-dip move. I expect speculators will again chase the market higher, but this time to a top across multiple Cycle time-frames.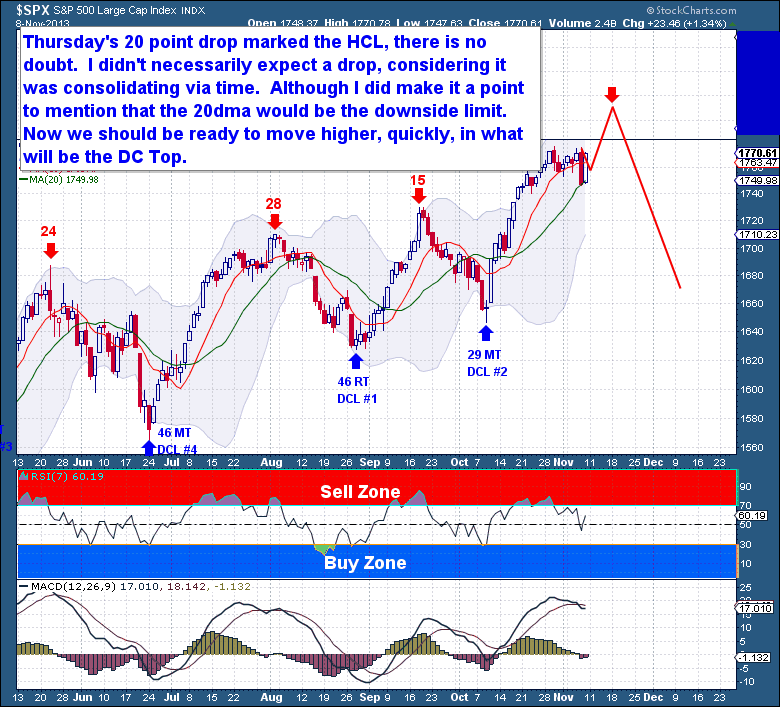 It is to analyze an asset that is behaving as irrationally as are the current equity markets. The theme is the same week in and out, and searching for justifications for the market's extremes becomes pointless. The facts are simple - equities are in a late stage cyclical bull market which is being speculatively driven. The idea that the FED is supporting and feeding the market is only marginally correct, but the idea has nonetheless taken root and become a rallying cry for equity bulls.
Speculative markets are always a reflection of market participants' collective greed. To support speculative behavior, participants formulate justifications which are often delusional. The "madness of crowds" is a well-know phenomenon that is all-too-common in the investing world. Each time – whether the late-90's internet bubble, the mid-00s real estate bubble, or the current equities bubble – participants find a way to convince themselves that this time is truly different.
The speculative frenzy always reaches the point where those prudent investors who have remained on the sideline can no longer tolerate feeling foolish while everyone else is making so much money. So they dive in too, and each passing week brings more conversions to the bullish case. Eventually, everyone is a bull…and there are very investors left with the courage to stay out of the market. At present, this phenomenon likely explains why Investors Intelligence sentiment data is hitting extremely low numbers of bears. The spread between Bulls & Bears is now at its highest since April 2011, which was precisely where the market last topped. A 20% correction followed shortly after.
Sentiment readings from multiple sources are universal in their alignment – equity markets sentiment is at levels which accompanies significant Cycle tops. One example, Sentimentrader's Smart/Dumb money indicator, currently reflects a "dumb money" level last seen at the 2011 top. And the spread between the two – Smart and Dumb money – is now at its widest levels since 2011. Both metrics are reliable indicators of an impending Investor Cycle top.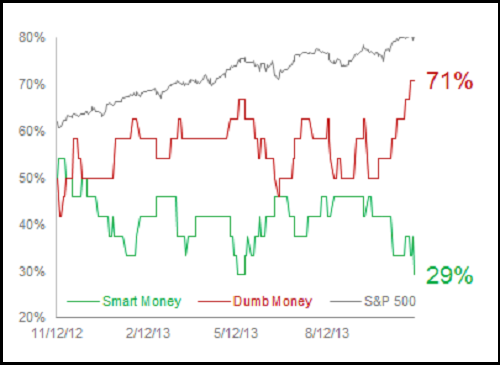 Close one EUO position @ $18.12. Stop raised on EUO and SCO position.