Steps From a Correction
Although I believe that a YCL – and a market correction – is clearly overdue, I do not believe we are at the end of the bull market. Although sentiment is stretched, and the current move is clearly speculative, over-bought, and over-extended, the divergences that typically accompany major 4 Year Cycle Tops are not present. So I don't believe the current cyclical bull market will end with the coming Yearly Cycle correction. In fact, most breadth indicators support a further rally in early 2014, one where a final 4 Year Cycle high is made. This is the point where I believe the next bear market decline will begin.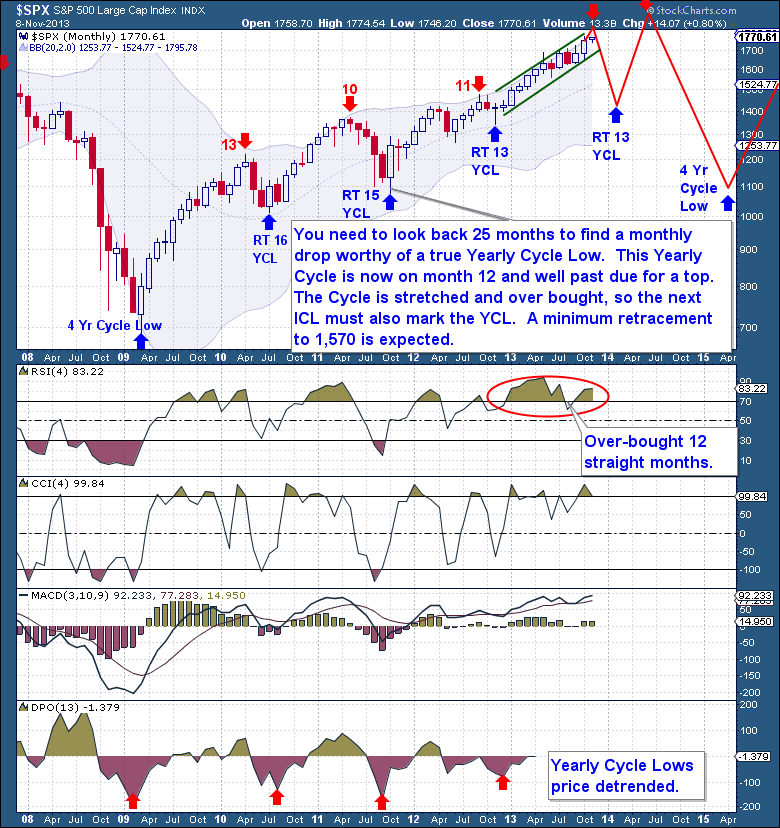 Crude Oil – Headed Lower
Ordinarily, Crude should currently be screaming higher. The Dollar is down sharply, and equities have been on a tear. Yet, Crude has struggled to hold recent gains while risk markets have exploded upward. This is not a positive development for Crude's upside.
I believe the weakness in this Daily Cycle foreshadows what lies directly ahead. As Crude continues to knock on the lower resistance area around the $100-$102 level, it is threatening a fall through that floor. Because the current Daily Cycle has already failed, a continued decline into a Daily Cycle Low is a fairly sure thing. The Investor Cycle is 27 weeks deep, well into its final decline into an Investor Cycle Low. As both the Daily and Investor Cycles are in decline, I firmly expect a break-down below $100 to begin next week.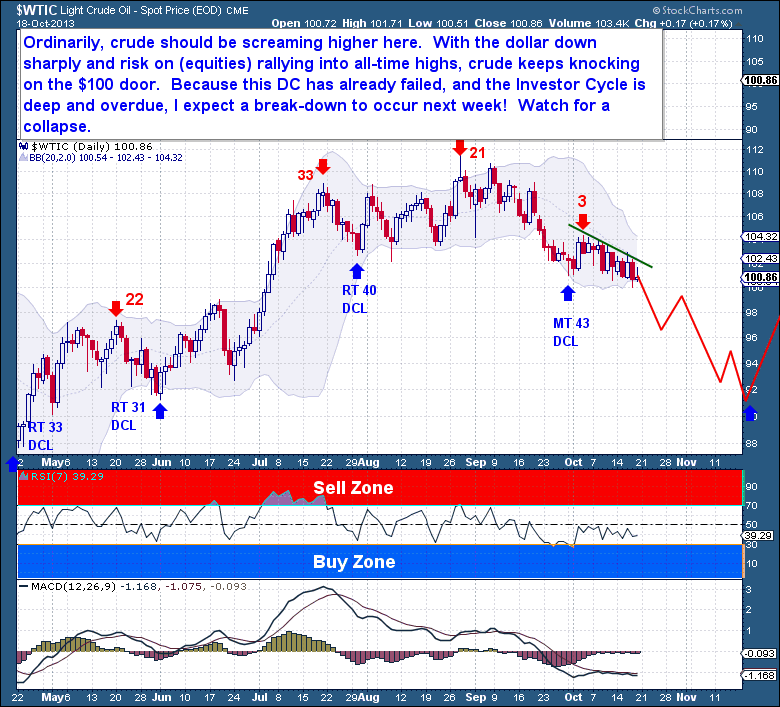 Daily Cycle Trader
The Daily Cycle Trader portfolio went live 3 months ago and we've now closed out the first quarter. It's been a hugely successful launch to this portfolio and I wanted to share some of specific results of the portfolio with you:
Total Portfolio Return (3 months): 15.56%
Total Trades: 26
Winning Trades: 16
Winning Trade %: 61.5%
Avg Winning Trade Profit: 6.4%
Avg Losing Trade Loss: -3.1%
The Daily Cycle Trader portfolio is a consolidation of our shortest duration trades. With the Daily Cycle Trader, we expect to trade at Daily Cycle highs and lows. These Cycles generally occur every 18-25 days, so there will be relatively frequent trading. Daily Cycle trades will generally utilize ETFs and leveraged ETFs.
SPECIAL OFFER: If you would like to take advantage of this new Portfolio, please consider a membership; we now have Monthly, Quarterly, and Yearly options. To celebrate the launch of this new portfolio, we're offering a $28.95 off coupon which could be used against any of the membership options. Apply it to a monthly membership, making the first month just $1. Or use it against our already discounted Quarterly and Yearly memberships.
To sign up, go to:
Use COUPON CODE: Trader (code is case sensitive). This will drop the price by $28.95.
A Market Peak
Below are the top 5 performing bull markets in history. Interestingly, and surprisingly, the current bull market is number 4 on the list. Upon closer examination, we see that the top 3 bull markets occurred as part of a general secular bull market. Meaning they were part of a period of true economic expansion, a period of real income growth and wealth creation. The current cyclical bull market, however, appears within a greater secular bear market, which makes this the best performing bull market (in terms of performance, not time) of any secular bear period in history. From a timing perspective, the 1970's bull market (within a Bear Market) ran for 70+ months, while the 2002-2007 bull market (again within a Bear Market) was 55 months in duration.

The Final Run
The coming bounce is going to reveal so much about this Investor and Yearly Cycle. This bounce should also be the final opportunity to make further all-time highs, for both this Daily and Investor Cycle. I believe any new high will mark the top of both Cycles, and from there it will be primarily down for another 1.5 Daily Cycles (60 trading days). As equities are well overdue to begin the decent into what promises to be a deep, corrective (at least -10%) Yearly Cycle Low, I have a suspicion that the coming bounce will fail to make new highs.
A New Cycle Approaches – Gold
Gold is down another $25 this morning, while Silver is taking the heaviest losses of the Cycle. As Silver led the Cycle and has for the most part avoided any significant decline, this must now be the final decline into the 2nd DCL. Traders should focus on the opportunity at hand and ignore the severity of the decline. The Financial Tap members know that this remains a normal and expected decline; they've been following the last few Cycles play out to expectations. In the past weekend premium member report I wrote:
"Until the current Daily Cycle completes, the immediate trend remains to the downside. We are 3-5 sessions from a low in the current 2nd Daily Cycle. This event is within our framework of expectations; Daily Cycles have ended every 24-28 days for many decades. When the next Daily Cycle (the 3rd) gets underway, I believe that the bear case for Gold will diminish considerably, and we'll see a rush into the metals that will drive price significantly higher. "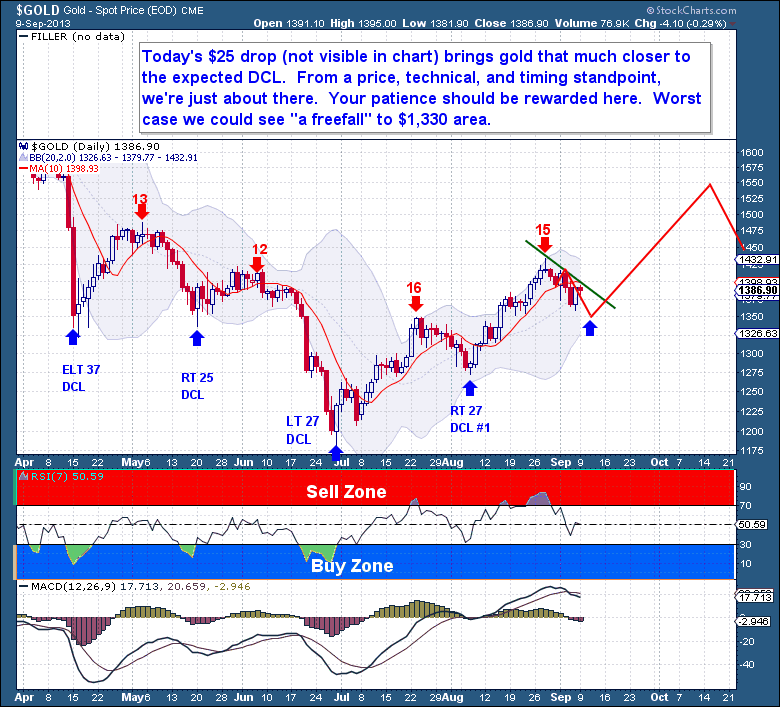 Don't Fight the Trend
When it comes to the Daily Cycle, especially 1st Daily Cycles from a series of up trending Investor Cycles, there is only so much downside one should expect. That's essentially what we have in the equity markets, a long history (4 years) of 1st Daily Cycles finding the necessary bid to power out of Cycle Lows.
In this particular case, there is now little doubt that a new Cycle is underway. The Cycle extended out to 46 trading days and was technically a much deeper correction than one would expect. The oscillators have turned higher, the MACD should cross within 3-5 sessions, and the S&P is back above its 10dma. A little more strength and the trend-line will be broken too.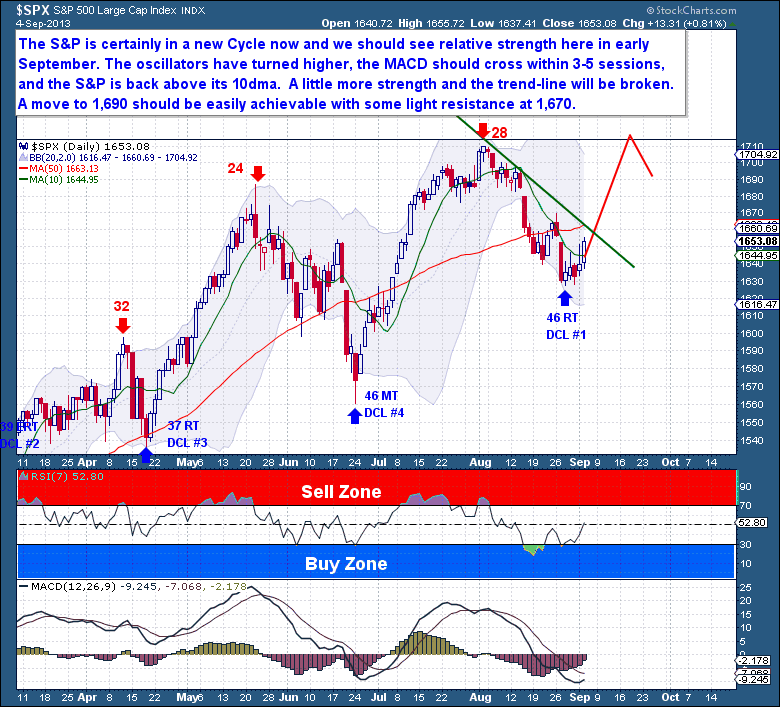 Buy on Cannons
Is the Syrian rhetoric really to blame for this more than expected weakness, I highly doubt it. In fact I can barely keep a straight face thinking how ludicrous the idea that potentially striking Syria is bringing the equity markets down. The simple fact is that this is weaker than expected action for a 1st Cycle Low decline and there appears to be some significant distribution occurring in this market now. I firmly believe that the more dominant weekly and monthly Cycles are topping out here, but one should not expect the equity markets to simply roll-over. We're still seeing a massive influx of retail and margin debt capital which will continue to sustain these markets for the immediate future.
For time being though sentiment has reached fairly extreme (negative) levels and the Cycle has stretched to 46 Days (Average is 38 to 42 days). Based on the recovery this morning and now a confirmed Daily Swing Low we have to assume that we just left behind a slightly stretched (46 days) Cycle making this just Day 1 of a new Cycle.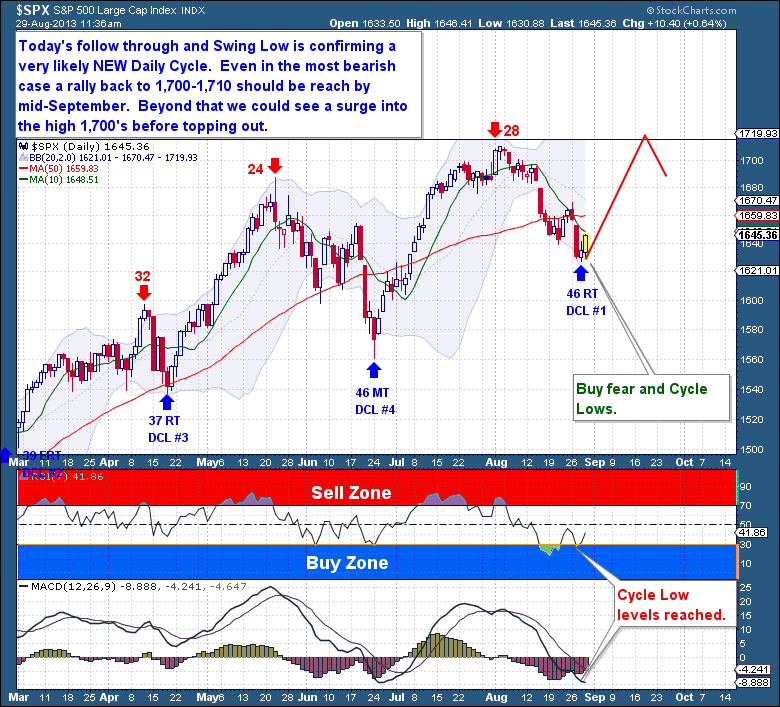 Laying Out Bear Traps
The Bollinger Bands on the S&P are as tight as I've ever seen and there is no doubt now that the Daily Cycle has topped. This being Day 37 (of an expected 40 day Cycle) this action is certainly part of a decline down towards a Cycle Low. But the problem (for bears) is that the S&P isn't dropping in price! I will grant you that the chart is looking a little "toppy" here, but at the same time the bears have unsuccessfully tried to roll this market over for 17 sessions now. You will notice that from a technical and detrended price standpoint this Cycle is well and truly approaching DCL levels.
Gold is Following Through
This post is a small excerpt from the weekend Financial Tap member report.
Gold spent 11 sessions moving lower from the top of the Cycle, giving back 6% of the gains. Judging by the blogosphere reaction during that decline I get the impression that very few people believed in this Cycle. From what I can tell a majority expected gold to once again rollover in a steep decline. That's just the problem with bear markets; they scar us to the point where we can't fully embrace potential when we see it.
As the longs started bailing out in fear and the bears gained confidence again, gold come out with a 2 session $40 pop. In its wake gold confirmed an end to the 1st Daily Cycle that in retrospect turned out to be a bullish Cycle. From the table below we see that 1st Daily Cycles (excludes bear market Cycles) top on average after gaining 10.6% in some 20 trading days. This daily cycle gained 14.3% to a top taking just 16 days. In the end it was a bullish 1st Daily Cycle which from a timing standpoint ran the expected 27 day average.

The surge out of the Cycle low regained back half of the prior Cycle losses in just one session. By the close of Day 2 gold has regained the 10dma and closed above the declining Cycle trend-line, ending what has been a fairly textbook Cycle transition. In my opinion we're still looking at a bullish Daily and Investor Cycle that have none of the characteristics matching the Cycles that haunted investors since last summer. What I expect now is for more follow through early next week with a quick move above $1,348 (current IC high). This next target will likely offer some resistance with a possible 2-5 session consolidation period.